CONNECT WITH US &nbsp
<!-***for all pages, but this file will allow unique links to be placed on the bottom** -->
Meet our Sustained and Superior Accomplishment Award Winners
Click on the year to expand and retract that year's awards list.
2015
Eric Oppenheimer, Max Gomberg, Katheryn Landau, Jessica Bean, Mark Emmerson, David Rose, Nathan Weaver, Cris Carrigan, Matthew Buffleben, Julia Hooten, John Prager, Jasmine Oaxaca, George Kostyrko, Rafael Maestu, and Carlos Mejia - Sustained Superior Accomplishment Award - December 15, 2015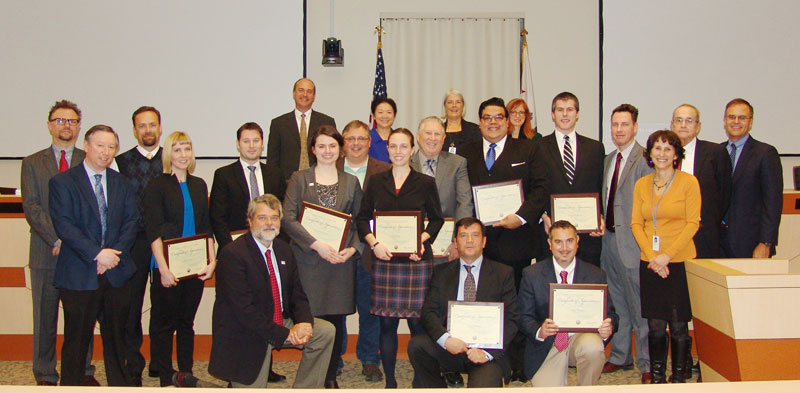 The water conservation team was recognized for their superior performance in implementing the State's first ever mandatory conservation program under Governor Brown's declared drought emergency. Team members were responsible for three emergency rulemaking packages in 2014 and 2015, monthly reporting, enforcement and management of a statewide water waste complaint portal.
Lori Webber, Melissa Morris, Chad Fearing, Calvin Yang, and Jennifer Salisbury, December 1, 2015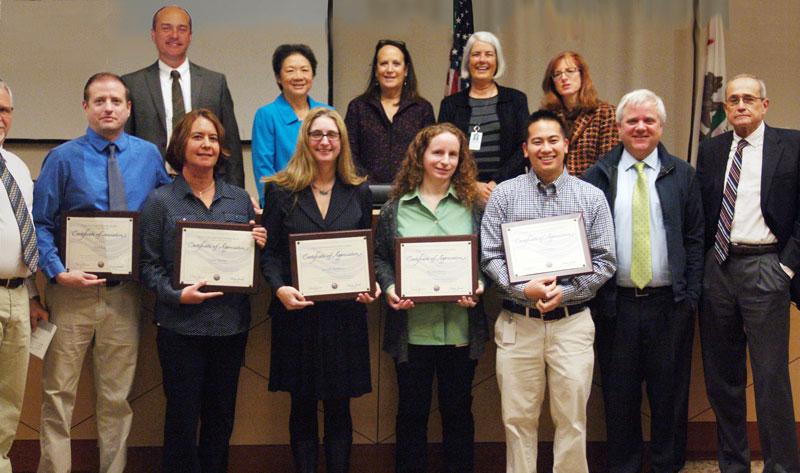 In 2012 the Department of General Services reviewed the current contracting business model of the legislatively mandated Surface Water Ambient Monitoring Program (SWAMP). At that time and in the years preceding the SWRCB contracted out many critical scientific field, lab, data, and business functions, including master contract management, field research, laboratory analyses and results, quality assurance quality control (QA/QC), and information technology management. In 2013 our representatives at DGS determined that the (contracted out) services and products associated with QA/QC, data management, and contracts management must be provided by State of California employee classifications (civil servants). With leadership and help of the OIMA Director and Deputy Director, the team wrote a budget change proposal (BCP that resulted in the SWRCB being granted authority in the 2014/15 budget to form 2 new units with 12 positions. The transition team was expanded to included newly recruited staff from the first phase and that team wrote eleven contracts to adjust to a new business model (the old model used a single, master contract overseeing many other contracts and services). These contracts total around nine million dollars, annually. This achievement, a complex business transition, was completed in less than two years. The net result: The Office of Information Management and Analysis grew from 17 to 27 positions. The 11 contracts represented 14% in number of the entire contract workload for the State Board for FY14/15. The accomplishment of hiring 12 employees and completing all new contracts in one fiscal year exceeded both Regional Board and State Board Management expectations. The awardees are: Lori Webber, Senior Environmental Specialist (Sup); Melissa Morris, Senior Environmental Specialist (Sup); Chad Fearing, Associate Governmental Program Analyst; Calvin Yang, Environmental Specialist; and Jennifer Salisbury, Environmental Specialist.
Stephanie Louie, December 1, 2015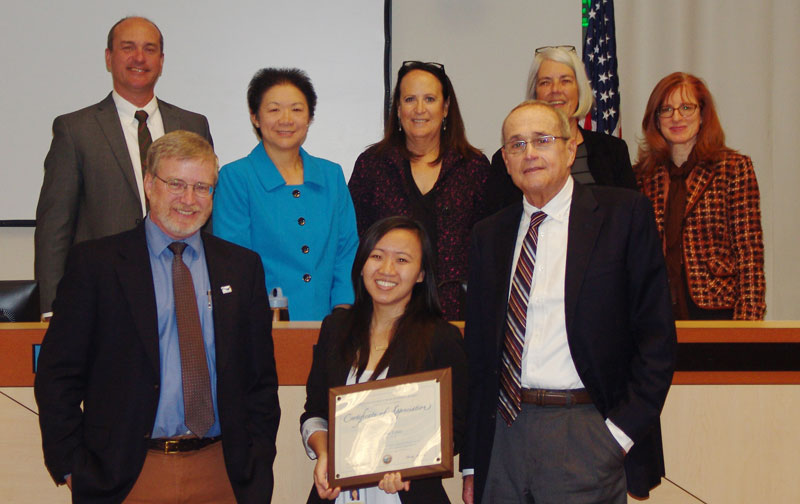 Stephanie joined the State Water Board and DFA in September of 2014. Staffing increased from 174.6 in June of 2014 to nearly 300 in just a few short months. She coordinated the processes of reviewing and preparing RPAs, updating organization charts, vetting prospective interviewees, and performing employee orientations. Simply put, she either directly or indirectly was in integral part of DFA hiring approximately 125 positions in 18 months. The sheer amount of work was unprecedented and she worked tirelessly to ensure successful completion of all tasks. Stephanie has provided outstanding responsiveness and promptness and earned the respect of her colleagues by conducting business in a professional manner with overwhelming empathy, kindness and a positive, constructive attitude.
Erin Ragazzi, Diane Riddle, Kathy Mrowka, and Amanda Montgomery- Sustained Superior Accomplishment Award, November 17, 2015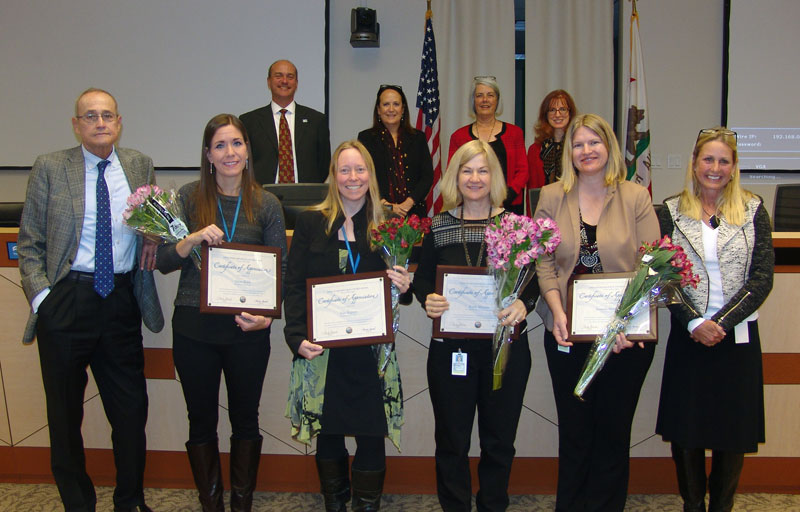 Erin Ragazzi received an award for her leadership and organization in both the development of the Board's public trust flow methodology and on emergency regulations for fishery flows during critical drought years. Diane Riddle for outstanding work on drought adaptation and analysis of Bay-Delta issues - particularly as reflected in State and Federal Project conditions. Kathy Mrowka for management of the complex drought evaluations of water supplies, water sufficiency and implementation of the state's water rights priority system during drought years. Amanda Montgomery for leadership and guidance in both adapting existing water rights and expediting new water rights to address critical domestic, municipal and fishery needs during the drought.
Carolyn Brookshire- Sustained Superior Accomplishment Award, September 1, 2015
Carolyn is receiving this award in recognition of her sustained performance in a number of areas, including administrative support of the $50M F106 grant and her role as a liaison with the Division of Information Technology, including being DWQ project staff lead for the rollout of ECM. Because of her excellent effort in this last area, DIT staff requested that Carolyn assist ECM project leaders in other Divisions and Offices at the State Board with ECM rollout and implementation.
Johanna Weston, Bethany Pane, Stacy Gillespie, Katherine Faick, Katheryn Landau and Rafael Maestu, September 1, 2015
Photo unavailable at this time. The "Trash Team," consisting of Johanna Weston (DWQ, lead staff), Bethany Pane (OCC), Stacy Gillespie (OCC), Rafa Maestu (ORPP), Katherine Faick (DWQ) and Katheryn Landau (ORPP) are receiving the award in recognition of the their work to help California become the first state in the nation to establish a regulatory control to reduce trash discarded on land, which is transmitted through storm drains and forms an estimated 60 to 80 percent of marine debris. At a recent meeting of the national Association of Clean Water Agencies, USEPA headquarters staff noted that USEPA is starting a "trash free waters" program. It was reported that the US Secretary of State John Kerry is excited about the new program and will be speaking on the topic of trash control at the International Ocean conference to be held in Chile later this year.
Claire Waggoner, Christopher Beegan, Shuka Rastegarpour, Erik Ekdahl, and Marleigh Wood, August 4, 2015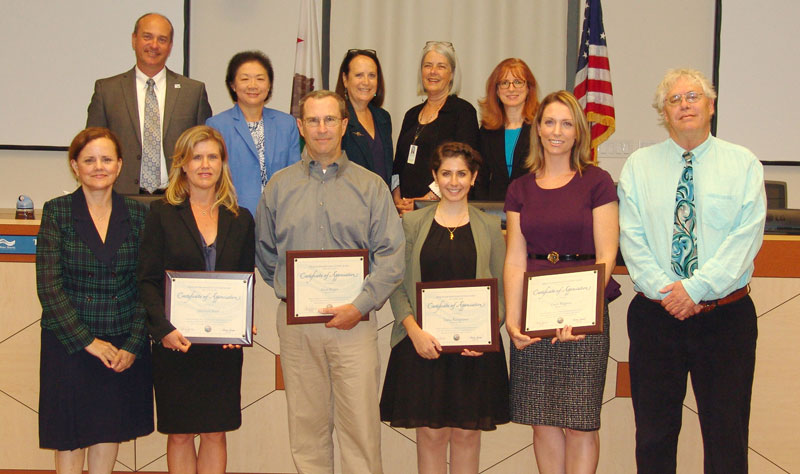 There were many contributors to this effort; however the core DWQ Desalination Amendment Team (Desalination Team) consists of Claire Waggoner, Christopher Beegan, Shuka Rastegarpour, Erik Ekdahl, and Marleigh Wood (Office of Chief Counsel). This team navigated through formation of expert review panels, and interagency workgroup, and extensive stakeholder outreach that provided the State Water Board with many concepts and recommendations to consider in development of the Desalination Amendment. Because of the Desalination Team's dedication, the State Water Board adopted the Desalination Amendment on May 6, 2015.
Stacy Gillespie and Kelli Garver, July 21, 2015
Stacy and Kelli performed as an outstanding team to protect the Underground Storage Tank Cleanup Fund (USTCF) related to Petroleum Storage Fee work. Kelli was instrumental in reviewing the claims that were at the heart of the qui tam action, trying to categorize them which required incredible attention to detail. Stacy was architect for an incredibly novel approach to the qui tam action that emphasized the importance of administrative penalties to drive major oil companies to settlement. Their work has driven two settlements so far, disqualified nearly one hundred claims from the USTCF, and tens-of-millions of dollars being paid in restitution to the USTCF, people of California, and a certain percentage to the qui tam plaintiffs as well.
Pete Stamas and Jennifer Toney, February 3, 2015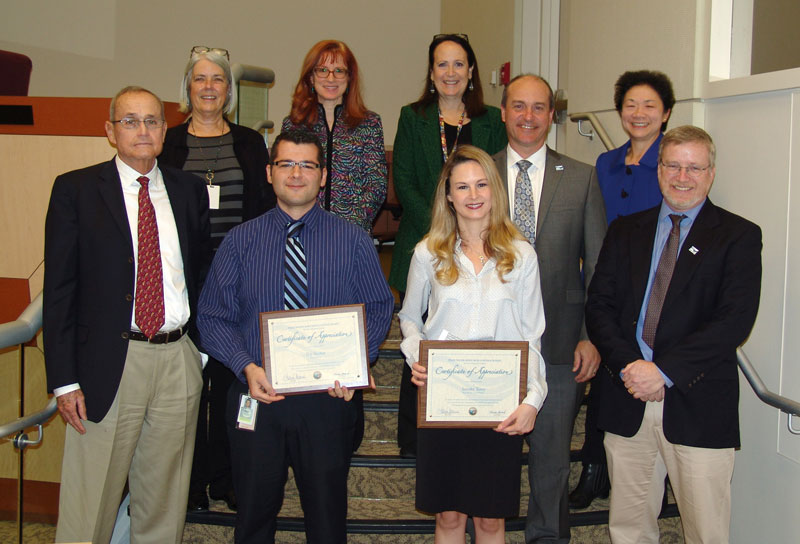 Pete Stamas and Jennifer Toney helped draft the Drinking Water State Revolving Fund (DWSRF) Policy while managing multiple funding projects and other special assignments. Within four months, Pete and Jennifer were tasked with, and able to: draft and revise a 48 page policy, solicit and incorporate internal and external stakeholder input, and draft an agenda item for the State Water Board's consideration. Just 17 weeks after the DWSRF program was transferred to the State Water Board, the DWSRF policy was adopted by the State Water Board. Pete and Jennifer have gone above and beyond what is required and show true leadership by never complaining and always producing high-quality professional work in a timely manner. Pete and Jennifer embody the ethic and spirit that all in public service should demonstrate.
2014
Vice Chair Spivy-Weber, Chair Marcus, Board Member Moore, Board Member Doduc, and Board Member D'Adamo- California Water Rights Law Turns 100, December 2014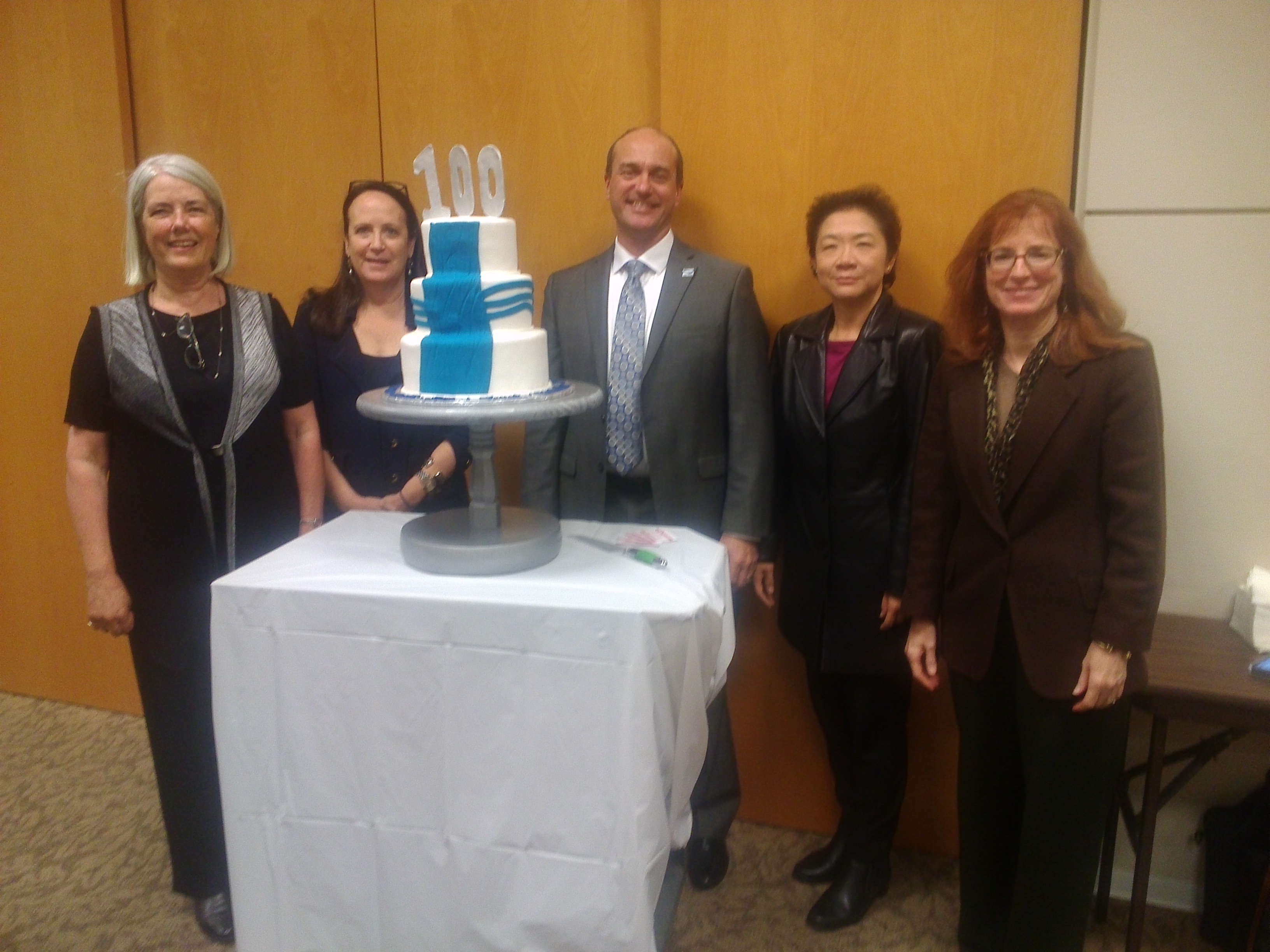 In December 2014, the State Water Board celebrated the 100 year anniversary of the landmark Water Commission Act of 1913, which went into effect on December 19, 1914. Landowners or water users that had established water usage prior to 1914 became senior water rights holders. Applications for appropriative water rights beginning in 1914 were processed by the Division of Water Rights, originally under the State Engineer, and subsequently under the Department of Water Resources, the State Water Rights Board, and finally, the State Water Resources Control Board.
Rachael Tadlock - Sustained Superior Accomplishment Award, October 21, 2014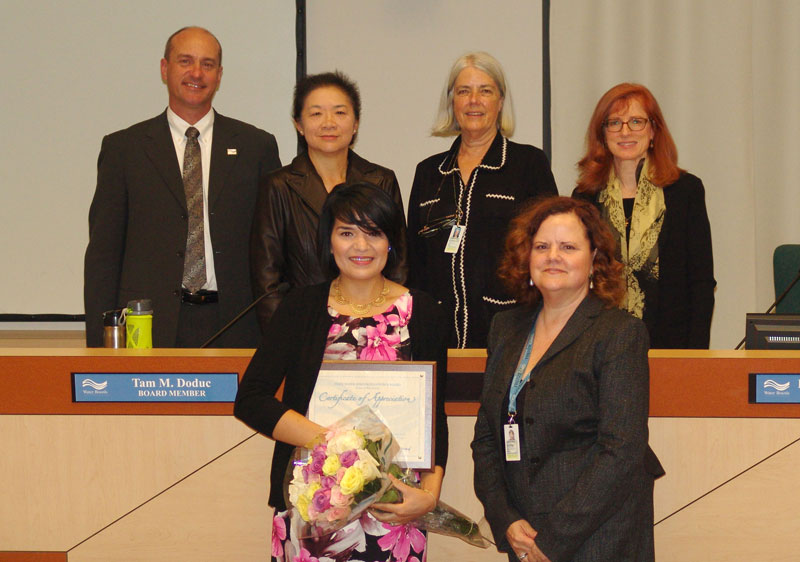 Over the past two years, the Division has been responsible for many high priority projects, each of which includes numerous stakeholder meetings, workshops, hearings, and board meeting agenda items. As the Division's Executive Assistant, Rachael serves as the liaison between the Board's clerk and the Division, in addition to her responsibilities assisting the Division's Deputy Director with calendaring meetings, making travel arrangements, preparing correspondence etc. Rachael also serves as the Division's lead clerical staff, and is responsible for training the Division's other clerical staff and distributing work assignments. The Division of Water Quality appreciates Rachael's organizational skills, intelligence, capabilities, work ethic, and dedication.'We also appreciate Rachael's graciousness when under pressure and always. Rachael's contributions to the Division and the Board are invaluable to the State Water Board and the Division's success.
Meghan Tosney - Sustained Superior Accomplishment Award, October 21, 2014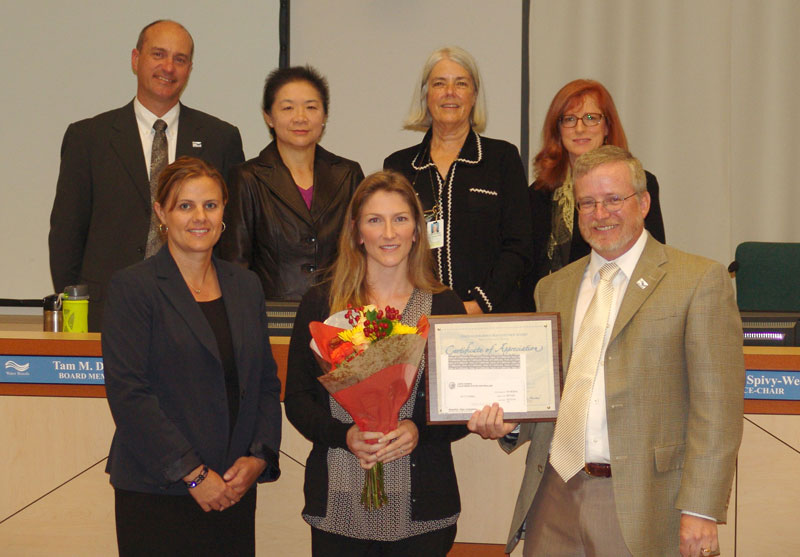 At the time of the award, Meghan managed the Small Community Wastewater unit tasked with committing grants and principal forgiveness to small, disadvantaged communities to help with their wastewater infrastructure needs. Through Meghan's leadership and expertise, over $193,300,000 was awarded to wastewater planning, design, and construction projects over the last two state fiscal years. Meghan's effort is exceptional as measured by the high morale within her unit, high work output by her staff, and esteem and respect from other coworkers. Coworkers always go to Meghan when they want a definitive answer and clear follow-up done in a timely manner. Aside from the standard loan and grant agreements, Meghan's unit also manages the Financial Assistance and Submittal Tool (FAAST) which contracts out to many other state agencies. Under Meghan's management, wastewater infrastructure projects are being implanted, improving water quality around all of California. Meghan currently manages technical assistance to help small communities access water quality infrastructure funding.
Dylan Seidner - Sustained Superior Accomplishment Award, October 21, 2014
Mr. Seidner received the award for his sustained superior accomplishment of being an instructor at the Basic Inspector Academy (BIA) for two years. The BIA program is a multi-agency effort to train water board and agency staff within CalEPA on the basic tools for conducting and writing up inspections. Dylan's instructor evaluations are consistently excellent!
Erin Mustain - Sustained Superior Accomplishment Award, October 7, 2014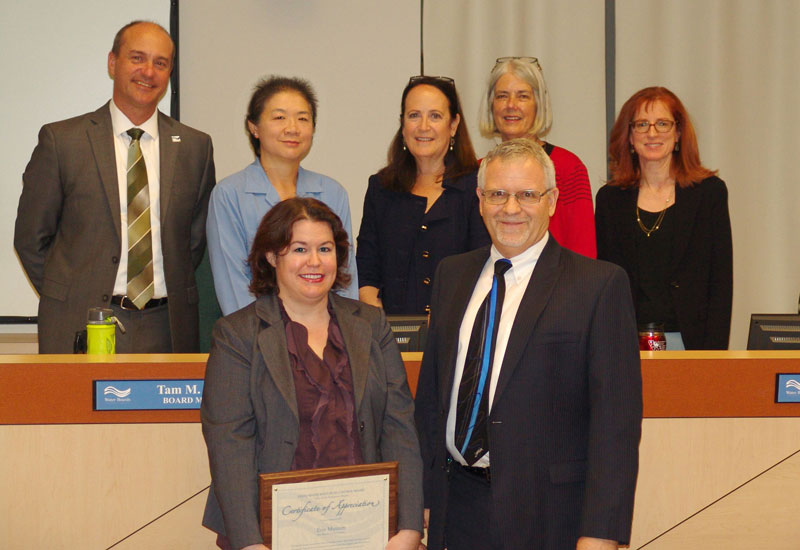 Erin led the team that planned and implemented the ACL-FMS project, which provides the feedback loop of Administrative Civil Liability (ACL) information between the California Integrated Water Quality System (CIWQS) and the Financial Management System (FMS). During the primary project period, July 2011 through June 2013, Erin embraced the project, understanding its fiscal and programmatic importance to the agency. Her CIWQS and enforcement experience were critical for the many pieces of the project - from the project administration and requirement gathering to communicating to staff, drafting procedures, and proposing changes CIWQS. She worked closely with Accounting, Enforcement, information technology, Fee, and regional board staff to ensure that the project came together. Erin's enthusiasm and leadership were essential to the ultimate success of the ACL-FMS project.
Erica Garcia, October 7, 2014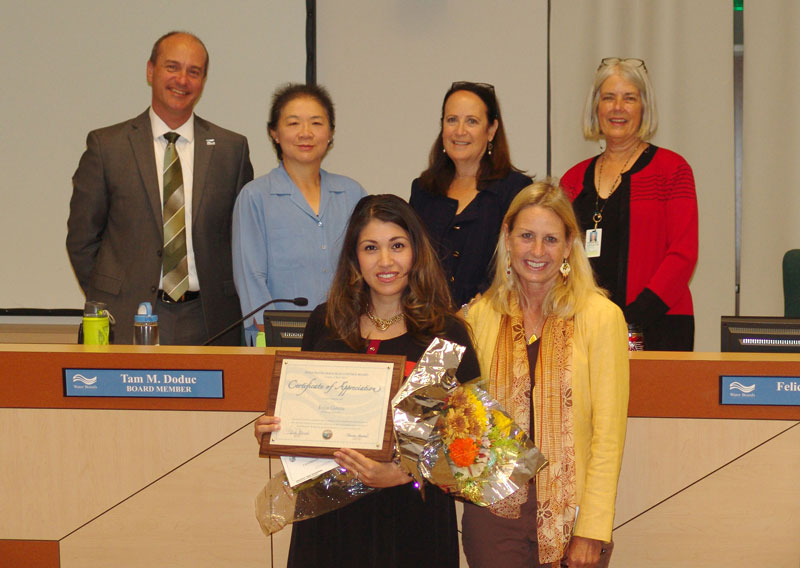 Erica received her award for her tremendous efforts in assisting the Division of Water Rights with contracting, hiring, personnel, and fiscal issues over many years, despite a very limited staff resource.
Walt Shannon and Jaime Favila, May 20, 2014
Photo unavailable at this time. Walt and Jaime received their award for their work on the Caltrans Storm Water Permit. Walt showed tremendous leadership in figuring out a way to address Total Maximum Daily Loads (TMDLs) in various regions and how to implement them efficiently into the Caltrans Storm Water Permit. Jaime categorized TMDLs by region, lumped them together, and convened a team of Regional Board staff to look at commonalities so the TMDLs could be grouped rather than looked at individually. Once all the analytical work was completed TMDLs were able to be addressed in a much more efficient manner.
Janice Zinky, May 20, 2014
Photo unavailable at this time. Janice received her award for her work on three high priority reports to the Legislature: one on AB 2222 (Communities that Rely on Contaminated Groundwater), one on SBX2 1 (Recommendations for Addressing Nitrates in Groundwater), and the other was for implementation of Water Board requirements in the SB 4 Report (Oil and gas: hydraulic fracturing). Her work has created a foundation for moving forward with many other Water Board projects.
Laurel Warddrip, April 1, 2014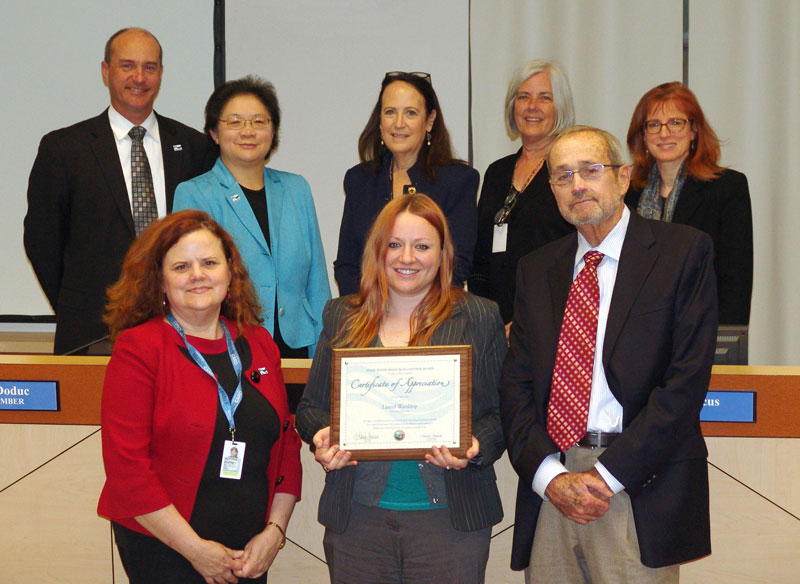 Laurel has served as the project lead for the third reissuance of the Statewide General National Pollutant Discharge Elimination System Permit for Discharges of Storm Water associated with the Industrial General Permit. Laurel's leadership on the project has been superior. In addition to innovating many new permit requirements and solutions posed by the commenters, Laurel has shepherded the four drafts through at least 12 public workshops, 4 public hearings, over 2000 comment letters, and many internal meetings to reach the final draft permit. Laurel has also led a parallel effort to establish a brand new, statewide training program to support the goals of the permit and program - the Qualified Industrial Stormwater Practitioner training program. Laurel not only overcame tremendous barriers to accomplishing the reissuance but her accomplishments contributed to a more efficient industrial storm water program and addressed the concerns of stakeholders about the impact of these proposed requirements on the state's economy.