Expired Drinking Water Laboratory Accreditation
---
Background
Section 64415(a) of the California Code of Regulations (CCR) requires that analyses pursuant to Chapter 15 "Domestic Water Quality and Monitoring Regulations" be performed by environmental laboratories accredited by ELAP. To maintain accreditation, a laboratory must comply with the application requirements as cited in the Environmental Laboratory Accreditation Act Sections 100825-100920 and California Code of Regulations, Title 22, Division 4, Chapter 19.  ELAP accreditation is valid for only two years. If a laboratory does not apply for renewal at least 90 days prior to the expiration of its current accreditation, the certificate may expire and the laboratory will no longer be accredited (CCR §64805(d)).
What is a water system's responsibility?
It is a water system's responsibility to ensure its laboratory is accredited to perform the analyses for its monitoring requirements. Failure to have compliance samples analyzed by a State Water Board, Environmental Laboratory Accreditation Program (ELAP)-accredited laboratory could result in a monitoring violation requiring public notification and a requirement to resample (California Code of Regulations Section 64415(a)).
Below is a list of laboratories whose accreditation has expired.
LABORATORIES WITH EXPIRED ACCREDITATION

Certificate Number
Laboratory Name
Street Address
City
State
Zip Code
Expiration Date
1771
Stanislaus County Public Health Laboratory
820 Scenic Drive
Modesto
CA
95350
6/30/2018
Online Laboratory Accreditation Status Lookup Tool
To check the accreditation status of your water system's laboratory, visit the map on ELAP's webpage at www.waterboards.ca.gov/elap. Instructions for using the map are found on this web page under: Online Laboratory Lookup Tool.
Go to www.waterboards.ca.gov/elap. Click the link next to "LOOKING FOR A LAB?" to go to ELAP's GIS Map.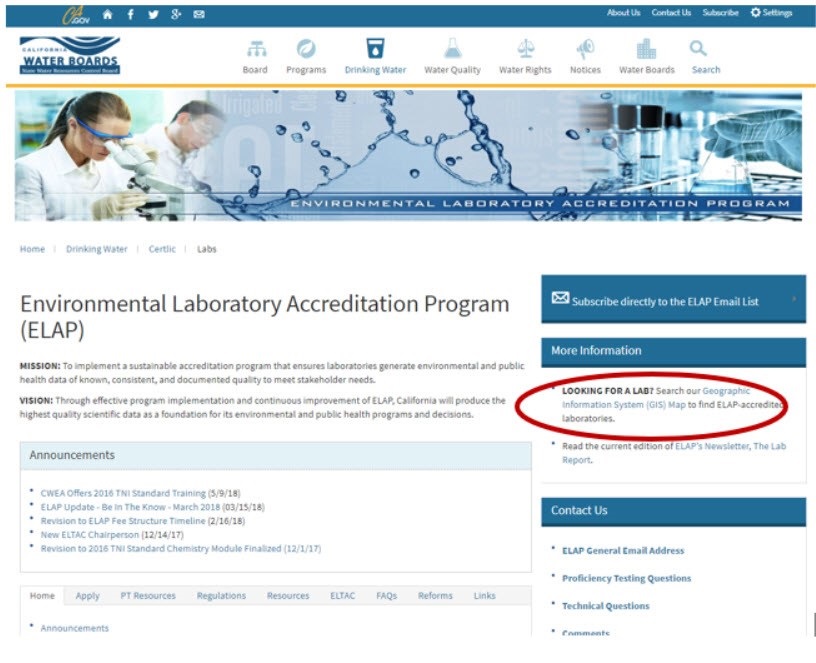 Type the name of a laboratory into the search box in the upper left corner and click the magnifying glass icon to search.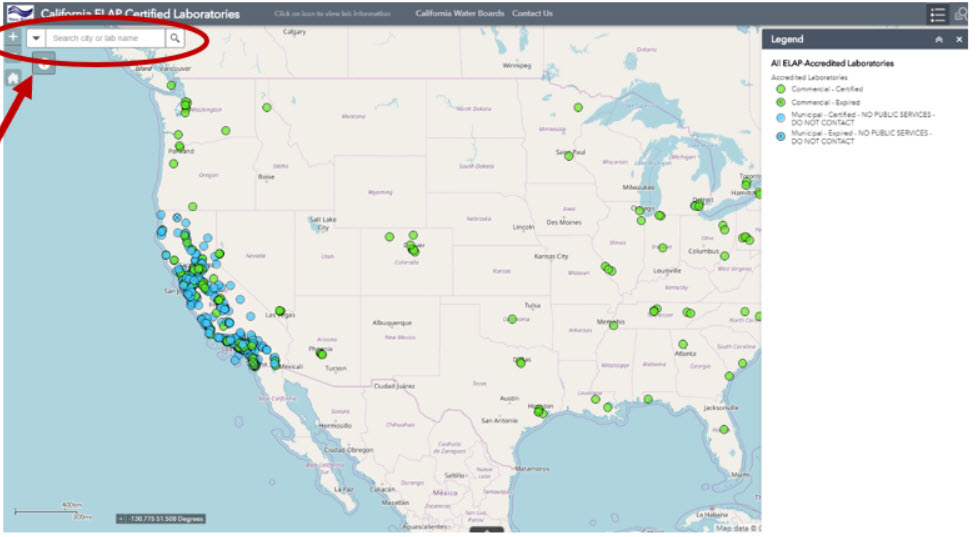 When you have located the laboratory, click on the "More info" link next to the FOT list in the laboratory's information box.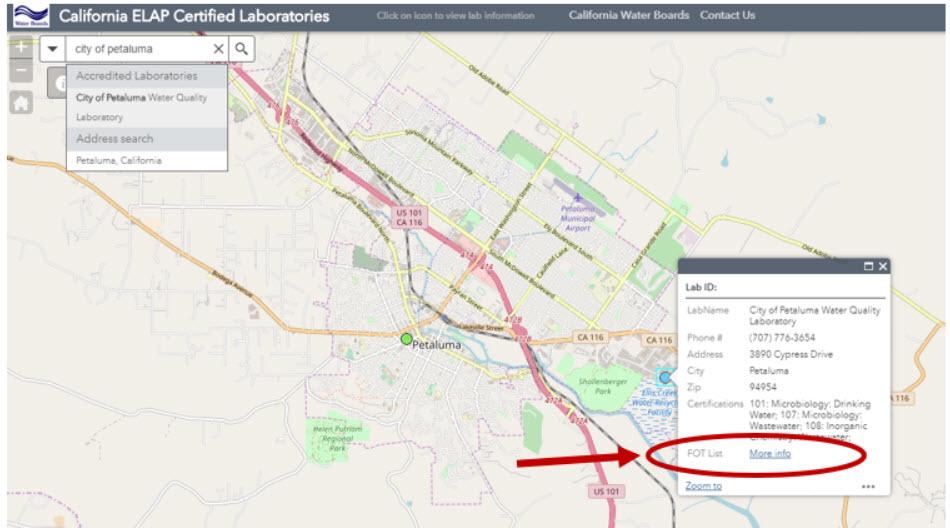 The laboratory's Accredited Fields of Testing (FOT) List will appear. Verify the expiration date and that the list contains the analyses for which the laboratory is providing services to your agency.