Agenda Items
Public Meeting
Central Valley Regional
Water Quality Control Board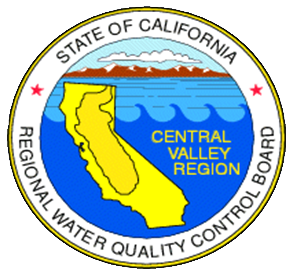 Friday's agenda includes a CLOSED SESSION item only
REVISED 2/1/2018
THIS MEETING WILL BE WEBCAST AT https://video.calepa.ca.gov
(Thursday Only due to CLOSED SESSION ON FRIDAY)
Items to be considered by the Board at the 1-2 February 2018 Central Valley Regional Water Quality Control Board Meeting, organized by agenda item number.
Thursday, February 1 - 9:30 a.m.
STATE BOARD LIAISON UPDATE
State Board Liaison Update
EXECUTIVE OFFICER'S REPORT
Discussion of Board Priorities for Fiscal Year 18/19

Fiscal Year 18/19 Priorities by Program:

- (posted 1/30/2018)
UNCONTESTED ITEMS 12 THROUGH 14
ENFORCEMENT
Rene Larranaga, Modoc County - Consideration of Administrative Civil Liability

Attachments to ACL Complaints:
Prosecution Team's Exhibits:
Discharger's Evidence:
OTHER BUSINESS
"Enforcement Program Yearly Update"
AGENDA ITEM 10 WILL NOT BE HEARD BEFORE 1:00 P.M.
Local Agency Efforts to Address Illicit Dumping of Trash/Debris and the Water Quality Impacts of Homeless Encampments
ELECTION OF CHAIR/VICE-CHAIR
Election of Chair/Vice-Chair
UNCONTESTED CALENDAR
(Cal. Code Regs., tit. 23, § 647.2, subd. (f).)
Uncontested items are those items that are not being contested at the Board Meeting and will be acted on without discussion. If any person or Board Member requests discussion, the item may be removed from the Uncontested Calendar and taken up in the regular agenda in an order determined by the Board Chair.
UNCONTESTED NPDES PERMITS AND ENFORCEMENT
UNCONTESTED NPDES PERMITS AND ENFORCEMENT

General Waste Discharge Requirements for Limited Threat Discharges to Surface Waters – Order R5-2016-0076 (NPDES CAG995002) (Amendment)


Meridian Beartrack Co Royal Mountain King Mine, Calaveras County – (NPDES CA0085243) (Renewal)
UNCONTESTED WASTE DISCHARGE REQUIREMENTS
UNCONTESTED WASTE DISCHARGE REQUIREMENTS

Ingomar Packing Company, LLC, Ingomar Tomato Processing Facility, Merced County, Order 83-087 (Revision)


Primex Farms, LLC, Wasco Pistachio Processing Facility, Kern County, (New)


OLAM West Coast and T&P Farms, OLAM West Coast Williams Facility, Colusa County, (New)


Recology Ostrom Road, Recology Ostrom Road Landfill, Yolo County, (Revised)

Comments Received:
Late Comments Received: