CONNECT WITH US &nbsp
ENFORCEMENT RESOURCES
REPLACEMENT WATER INITIATIVE PORTAL
Salinas Valley Interim Replacement Drinking Water Program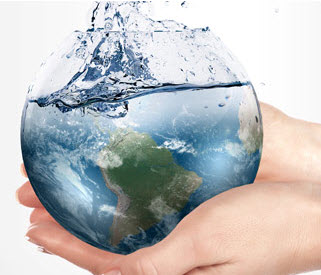 In a collaborative effort with the State Water Board Office of Enforcement and Central Coast Regional Water Quality Control Board, a coalition of farmers (Salinas Basin Agriculture Stewardship Group LLC (Stewardship Group)) will provide replacement drinking water to residents in the Salinas Valley whose drinking water wells have unsafe levels of nitrate. The program will provide free drinking water to residents for at least one year, with the option of being extended for a second year if performance targets are met during the first year. During the temporary drinking water replacement program, the Stewardship Group will be working on a plan to develop long-term solutions for nitrate contamination in the Salinas groundwater basin. The Office of Enforcement will suspend enforcement actions against entities that participate in the Stewardship's program.
The Stewardship has contracted with the Coalition for Urban Rural Environmental Stewardship (CURES) to implement the program and bottled water will be delivered by Culligan.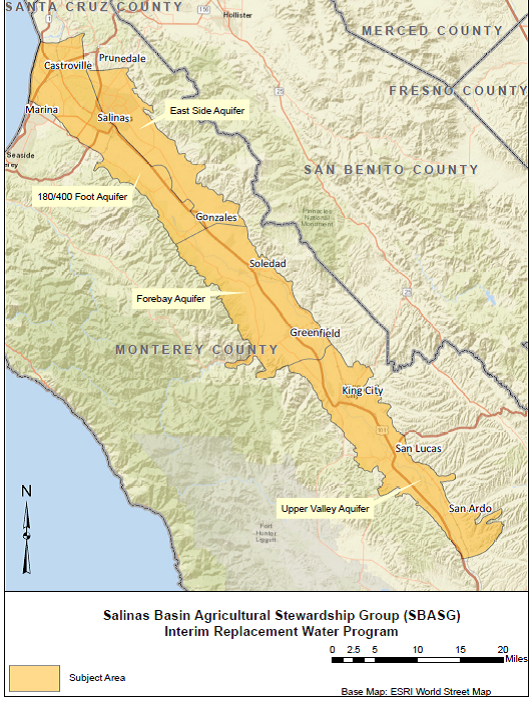 (Click map for enlargement.)
Who Qualifies for Free Drinking Water
**NOTE: If you receive water from a municipality/community water system, your water may already be treated for nitrates and be safe to drink. Please check with your water purveyor.
Eligible applicants are:
Residents located in the following four groundwater basins (see map):

180/400 foot Aquifer
East Side Aquifer
Forebay Aquifer
Upper Aquifer

Who either own or get water from a water system identified on the list (Exhibit A) in the Settlement Agreement;

OR


Drinking Water comes from a domestic well and:


Incomes is less than $51,600 per individual family unit,
Water from the well exceeds safe drinking water standards for Nitrate (A FREE water sample will be taken as part of this program);
Landlord/owner does not provide replacement drinking water
How to Apply
Email it to  cleandrinkingwater@waterboards.ca.gov

Parry Klassen with CURES, klassenparry@gmail.com

OR


Submit the application online:  www.curesworks.org/replacementwater/

Contact Information
Questions on the program, eligibility, application, etc., can be directed to:
Toll-Free Information line (Bilingüe): 1-855-673-1066
Email: cleandrinkingwater@waterboards.ca.gov
Parry Klassen, CURES
Phone: (559) 288-8125
Email: klassenparry@gmail.com
Other Useful Information
Groundwater Ambient Monitoring and Assessment Program (GAMA)
GeoTRACKER GAMA is an interactive Map providing water quality data from various sources
Central Coast Regional Water Quality Control Board Groundwater Assessment and Protection (GAP)
Central Coast Regional Water Quality Control Board Irrigated Lands Regulatory Program (ILRP)