CONNECT WITH US &nbsp
STORMS - Strategy to Optimize Resource Management of Storm Water
QUICK LINKS
STORMS Home Page
Projects Page
STORMS Page
Potential Pilot Projects Page
Seminar Series Page
Implementation Committee Page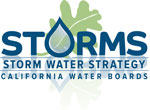 TABLE OF CONTENTS
1. Executive Summary
2. Introduction
2.1 Background
2.2 Relationship to the California Water Plan
2.3 Relationship to the California Water Action Plan
2.4 Relationship to Sustainable Groundwater Management
3. Vision and Mission
3.1 Storm Water Strategy Vision
3.2 Storm Water Strategy Mission of the Water Board along with Key Partners
4. Implementation Strategy
4.1 Terminology
4.2 Goals
4.3 Objectives and Projects
5. Implementation Resources
5.1 Training and Information Sharing
5.2 Proposed Phased Implementation of Projects
6. Measuring and Reporting Progress
6.1 Performance Reporting-Part I
6.2 Interim Performance Reporting-Part II
7. Strategy Updates and Revisions
FEEDBACK
You may provide feedback on the Storm Water Strategy by submitting the STORMS Feedback Form.
Chapter 2. Introduction
In 1987, the United States Congress amended the Federal Water Pollution Control Act (Clean Water Act; CWA) to include section 402(p), requiring the United States Environmental Protection Agency (USEPA) to address storm water impacts to water quality. Almost 30 years later, storm water runoff from MS4s and from some construction sites and industrial facilities continues to be a source of pollutants and has contributed to water quality impairments in California (2010 Integrated Report). Consequently, it is imperative that the Water Boards' Storm Water Program continues to revise and update policies and plans to guide storm water regulation, draft and reissue permits, and improve efforts that address water quality problems resulting from storm water discharges.
Water management in California has historically been divided and compartmentalized into water quality, water supply, and flood control interests across a variety of state, county, and local agencies. With the impacts of population growth, climate change, and the current drought, storm water management must evolve into a more collaborative approach that recognizes the value of storm water as a resource that can be managed more effectively to improve both water quality and water supply. The primary approaches to improving storm water management are through reduced runoff, increased storm water retention, and pollution prevention.
2.1 Background
In 2013, the State Water Board recognized the need to formulate a long-term vision for the statewide storm water program. The California Water Action Plan, released in January 2014, further called for multiple benefit storm water management solutions and efficient permitting for multiple benefit projects. Additionally, in early 2014, the California Environmental Dialog (CED) conducted a special session to consider setting a vision for a "Storm Water Strategy." The overall vision of the session was to manage storm water in a manner that is beneficial to water quality and water supply (CED, 2014). In April 2014, the Water Boards responded by forming the Storm Water Strategic Initiative (Initiative). The goal of this effort was to transition the Storm Water Program to better address new challenges, including drought and climate change. Water Board staff (Staff) developed a concept paper and then met extensively with stakeholders to understand their interests and to solicit suggestions. The result was the Draft Proposal capturing the intention to integrate watershed management, including multiple benefits and source control, into the statewide storm water regulatory program to improve storm water management efficiency and effectiveness.
On August 19, 2015, the State Water Board held a workshop to receive input on the Proposal with presentations from the Department of Toxic Substances Control, California Stormwater Quality Association, California Coastkeeper Alliance, California Council for Environmental and Economic Balance, and the Business Community Coalition. Based on the feedback received during the workshop, Staff was directed to proceed with the Proposal's work plan and consider the following suggestions:
Develop a strategic vision for the program with discrete goals
Consolidate the overlapping tasks and priorities into implementable projects
Leverage existing information and efforts
Facilitate the collaboration of regulatory and non-regulatory interests
Consider the creation of an Implementation Committee
2.2 Relationship to the California Water Plan
The California Water Plan Update 2013 (Bulletin 160-13) provides a collaborative planning framework for elected officials, agencies, tribes, water and resource managers, businesses, academia, stakeholders, and the public to make informed decisions for our state's water future. The California Water Plan identifies statewide resource management strategies, and evaluates different combinations of these strategies to reduce water demand, increase water supply, reduce flood risk, improve water quality, and enhance environmental and resource stewardship.(2)
The Urban Stormwater Runoff Management (Figure 1) is a resource management strategy identified in the California Water Plan with linkages to other resource management strategies, such as Urban Water Use Efficiency, Conjunctive Management and Groundwater Storage, Municipal Recycled Water, Pollution Prevention, Land Use Planning and Management, Recharge Area Protection, and Watershed Management. This Storm Water Strategy enhances these linkages by promoting storm water as a valuable resource where capture and use can result in multiple benefits within a watershed.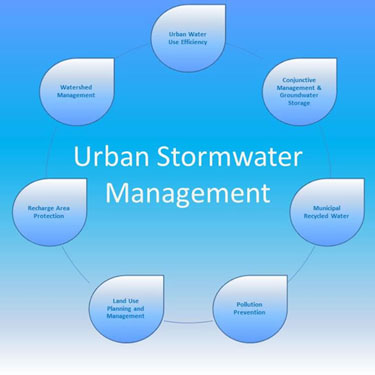 Figure 1. Urban Stormwater Runoff Management
2.3 Relationship to the California Water Action Plan
The California Water Action Plan, issued by Governor Brown in January 2014, provides a roadmap for the first five years of the state's journey toward sustainable water management.(3) Ten actions (Figure 2) were identified in the California Water Action Plan to address the most important issues in the state, while also laying the groundwork for a sustainable future. The plan calls for an increased focus on projects with multiple benefits, such as storm water capture and floodplain reconnection, that can help simultaneously improve the environment, flood management, and water supplies. Collaboration between state, federal, and local governments, regional agencies, tribal governments, and the public and private sectors will be necessary for successful implementation. This Storm Water Strategy assists in achieving many of the actions identified in the California Water Action Plan by promoting multiple benefit projects where storm water is treated as a resource to be captured and used; therefore resulting in increased flood protection, integrated water management, protection of important ecosystems, and improvement of groundwater management.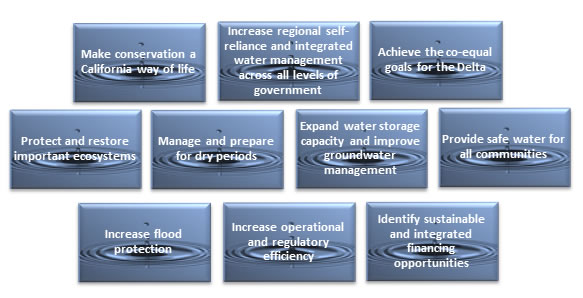 Figure 2. California Water Plan Action Items
This Storm Water Strategy further emphasizes and supports the following actions identified in the California Water Action Plan:
Make Conservation a Way of Life

The 2009 Water Conservation Act (Senate Bill X7-7) aims to achieve a 20 percent reduction in urban per capita water use by December 31, 2020. The promotion of storm water capture and beneficial use is one of the many strategies identified in the California Water Action Plan to increase the value and awareness of how we use water in order to work toward this goal.

Increase Regional Self-Reliance and Integrated Water Management Across All Levels of Government

Over the past decade, the state has provided technical and financial assistance to regions to incentivize inter-agency/stakeholder cooperation in planning and implementing multi-objective actions that provide both regional and statewide benefits to water resources management and protection. Several projects identified in the Storm Water Strategy are intended to evaluate existing programs and propose modifications to incentivize integrated water management, promote storm water capture and use, and emphasize low impact development (LID) strategies in storm water permits.

Expand Water Storage Capacity and Improve Groundwater Management

Surface and groundwater storage is necessary to deal with the effects of drought and climate change on water supplies for human and environmental needs. Groundwater storage improvement consists of replenishing groundwater basins directly through injection, by allowing water to percolate into the ground naturally, or from constructed spreading basins and/or storm water capture. The Storm Water Strategy is supportive of the efforts identified in the California Water Action Plan to improve interagency coordination and identify additional needs to evaluate groundwater recharge opportunities, such as capture and infiltration of storm water.

Identify Sustainable and Integrated Financing Opportunities

The Storm Water Strategy supports actions identified in the California Water Action plan that helps to provide a better understanding of the variety and types of funds and financing available for water investment in order to make the best, most efficient and sustainable uses of available funding.The Storm Water Strategy aims to eliminate barriers to funding storm water programs and identify ways to make funding accessible to storm water capture and use projects.
2.4 Relationship to Sustainable Groundwater Management
Sustainable groundwater management is an essential part of California's future. As such, on September 16, 2014, Governor Brown signed a three-bill package known as the Sustainable Groundwater Management Act.(4) The legislation charges local agencies with the management of local groundwater basins through the creation of groundwater sustainability agencies and groundwater sustainability plans. The State Water Board, in coordination with the Department of Water Resources, is committed to engaging local groundwater managers in the development of locally-driven sustainable groundwater solutions.(5)
The Department of Water Resources drafted a Strategic Plan that describes its responsibilities and vision for implementing the Sustainable Groundwater Management Act. The draft Strategic Plan outlines key actions the Department of Water Resources will undertake over the next several years to position itself to better support local agencies across California to achieve sustainable groundwater management.(6) In addition, the Department of Water Resources is developing regulations for groundwater sustainability plans, while allowing agencies the flexibility to customize these plans to their regional economic and environmental needs. The Department of Water Resources will review groundwater sustainability plans and, if found inadequate, will refer the plan to the State Water Board for intervention. Intervention could result in the State Water Board writing and implementing an interim groundwater sustainability plan where local efforts are not successful.
In compliance with the Sustainable Groundwater Management Act, and in concert with the Department of Water Resources' draft Strategic Plan, the Storm Water Strategy will assist efforts to sustainably manage groundwater through the removal of impediments to recharge such as through the capture and infiltration of storm water.
4 http://groundwater.ca.gov/legislation.cfm
5 http://www.waterboards.ca.gov/water_issues/programs/groundwater/workplan.shtml
6 http://www.water.ca.gov/groundwater/sgm/
»»
Next Chapter