CONNECT WITH US &nbsp
STORMS - Strategy to Optimize Resource Management of Storm Water
QUICK LINKS
STORMS Home Page
Projects Page
STORMS Page
Potential Pilot Projects Page
Seminar Series Page
Implementation Committee Page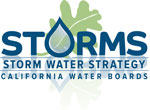 TABLE OF CONTENTS
1. Executive Summary
2. Introduction
2.1 Background
2.2 Relationship to the California Water Plan
2.3 Relationship to the California Water Action Plan
2.4 Relationship to Sustainable Groundwater Management
3. Vision and Mission
3.1 Storm Water Strategy Vision
3.2 Storm Water Strategy Mission of the Water Board along with Key Partners
4. Implementation Strategy
4.1 Terminology
4.2 Goals
4.3 Objectives and Projects
5. Implementation Resources
5.1 Training and Information Sharing
5.2 Proposed Phased Implementation of Projects
6. Measuring and Reporting Progress
6.1 Performance Reporting-Part I
6.2 Interim Performance Reporting-Part II
7. Strategy Updates and Revisions
FEEDBACK
You may provide feedback on the Storm Water Strategy by submitting the STORMS Feedback Form.
Chapter 7. Strategy Updates and Revisions
The Storm Water Strategy is envisioned as a living process that will take advantage of the interactive nature of the internet. Accordingly, an interactive website will be created to display the Storm Water Strategy's goals, objectives, and associated projects, while also providing routine project status updates and deliverables.
In addition, the interactive website will be designed to integrate previous comments received and new stakeholder input on specific sections of the Storm Water Strategy. The interactive nature of this format will generate new connections, concepts, and solutions for the goals of the Storm Water Strategy. Lessons learned from projects initiated in previous phases of implementation may also influence the scope and priority of future projects or result in new projects being added to the Storm Water Strategy.
There are many regulatory, non-governmental organizations, and educational institutions with efforts that support the goals and objectives of the Storm Water Strategy. The interactive website will also be used as a repository for linking existing efforts and will attempt to consolidate content of ongoing studies, data, and/or regulations.