CONNECT WITH US &nbsp
STORMS - Strategy
QUICK LINKS
STORMS Home Page
Projects Page
STORMS Page
Potential Pilot Projects Page
Seminar Series Page
Implementation Committee Page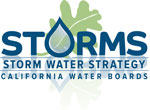 Strategy
FEEDBACK
You may provide feedback on the Storm Water Strategy by submitting the STORMS Feedback Form.
Project 1c: Increase Storm Water Capture and Use through Regulatory Approaches
Priority:
Very High
Assessment:
Critically important, readily achievable

Prerequisite:
This project will be informed by Projects 1a and 1b, and should be implemented subsequent to the staff reports developed as outcomes resulting of those projects.
Project Objective:
Adopt storm water policies, guidelines, and permits to incentivize storm water capture and use.
Scope:
Review current storm water permits, policies, and programs to identify where storm water capture and beneficial use can be required or incentivized for both new and existing development. Focus the analysis on the results of Projects 1a and 1b. Consider requiring or incentivizing multiple-benefit approaches, green infrastructure, flood control, regional storm water retention, infiltration facilities, and direct use. Options for regulatory requirement-based actions and incentives could include: (1) incentivizing multiple-benefit project proponents through alternative compliance pathways consistent with the principles discussed in the adopted order resolving the Los Angeles Municipal Separate Storm Sewer System (MS4) Petition; (2) providing funding and financial tools to encourage retrofits and/or alternative compliance pathways; (3) requiring or incentivizing retrofits of existing infrastructure; and (4) using existing regulatory authority to ensure implementation of multiple benefit projects and retrofits.
Background:
Traditional permitting practices mainly focus on storm water capture and use for new development/redevelopment and less on modifying the existing urban landscape. Moreover, few permits provide incentives to increase storm water capture and use but rather create unintended obstacles to implementing storm water capture/use. A concerted effort to retrofit the existing urban landscape to green infrastructure is needed to restore storm water infiltration capacity previously lost in developed areas. While large-scale retrofits to urban landscapes appear to be costly, cost-effective options for increasing storm water capture and use while achieving environmental outcomes may include: (1) converting to green infrastructure at the end of existing infrastructure life-cycles; (2) using simple retrofits like standardized parkway curb cuts in public rights of way; and (3) establishing healthy, living soil in landscaped areas. Increasing storm water infiltration in developed areas provides multiple benefits, including improving groundwater recharge, restoring lost watershed processes such as base flow to creeks, and reducing pollutant loads discharged to surface waters.
Products and Timelines:
1.5 Years: Develop a staff report to identify opportunities to require and incentivize storm water capture and use.
6 Months: Prepare a draft Item of proposed regulatory approaches for State Water Board consideration of adoption.
Phase II
Objective 1
Increase Stormwater Capture and Use through Regulatory and Non-Regulatory Approaches
Goal 1
Change the Perspective that Storm Water is a Waste or Hazard, and Treat it as a Valuable Water Resource
Project Information
Name
Increase Storm Water Capture and Use through Regulatory Approaches
Start
2019
Completion
2021
Progress
Executive
Sponsors
Lead Staff
Support
Staff
Contract Information
Performance Metrics