CONNECT WITH US &nbsp
STORMS - Strategy
QUICK LINKS
STORMS Home Page
Projects Page
STORMS Page
Potential Pilot Projects Page
Seminar Series Page
Implementation Committee Page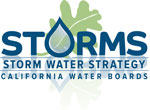 Strategy
FEEDBACK
You may provide feedback on the Storm Water Strategy by submitting the STORMS Feedback Form.
Project 2a: Encourage Stakeholder Collaboration to Promote Storm Water as a Resource
Priority:
Medium
Assessment:
Critically important, achievable with significant barriers

Prerequisite:
None
Project Objective:
Partner with flood control agencies, water conservation efforts, groundwater sustainability agencies, water agencies, land use planning departments, and other municipal departments to promote projects that provide multiple benefits.
Scope:
Identify opportunities and barriers to collaborating with other agencies to promote the treatment of storm water as a resource and promote water use efficiency. Develop templates for formal or informal partnership agreements to take advantage of opportunities and remove barriers to multiple benefit projects. Identify ways to incentivize multiple benefit projects (e.g. water supply offset or other non-permitting incentives).
Background:
Many agencies, especially the Water Resources and other water supply agencies, can potentially benefit from projects that use storm water as a resource. These beneficiaries can be important partners; however, some water supply agencies are cautious of linking their projects to storm water retention projects related to MS4 permits, particularly because of compliance deadlines. Other agencies, such as school districts, that have land for multiple benefit projects may have concerns about environmental liability. The Water Boards acknowledge that in order for successful completion of this project, other agencies will need to participate and implement their own authorities and mandates in order to increase the use of storm water as a resource. The SGMA may also be one of the catalysts the Water Boards can rely on to encourage treating storm water as a resource, because it provides an opportunity for storm water projects to be leveraged through agency collaboration to help achieve groundwater sustainability.
Prerequisites:
None.
Products and Timelines:
6 Months: Identify opportunities and any barriers to collaborate with other agencies.
9 Months: Meet with a select but limited number of water agencies to discuss collaboration opportunities.
1 Year: Propose a template for a Memorandum of Agreement (MOA) or other agreement mechanism with water agencies to form sustainable relationships and communication avenues.
Ongoing: Participate in work groups or meetings to facilitate collaboration.
Phase II
Objective 2
Increase Stakeholder Collaboration on a Watershed Scale
Goal 1
Change the Perspective that Storm Water is a Waste or Hazard, and Treat it as a Valuable Water Resource
Goal 4
Collaborate in Order to Solve Water Quality and Pollutant Problems with an Array of Regulatory and Non-Regulatory Approaches
Project Information
Name
Encourage Stakeholder Collaboration to Promote Water as a Resource
Start
2019
Completion
2021
Progress
Executive
Sponsors
Lead Staff
Support
Staff
Contract Information
Performance Metrics