CONNECT WITH US &nbsp
STORMS - Strategy
QUICK LINKS
STORMS Home Page
Projects Page
STORMS Page
Potential Pilot Projects Page
Seminar Series Page
Implementation Committee Page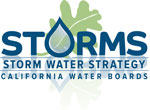 Strategy
FEEDBACK
You may provide feedback on the Storm Water Strategy by submitting the STORMS Feedback Form.

Project 3b: Develop Watershed-Based Compliance and Management Guidelines and Tools
What's New
Update: 09/01/16
In June, the Water Board executed a contract with California State University Sacramento Office of Water Programs. See the Project Details tab for additional information.
STORMS Objective 3
Establish Permit Pathways to Assess Storm Water Programs and Meet Water Quality Requirements
STORMS Goal 2
Manage Storm Water to Preserve Watershed Processes and Achieve Desired Water Quality Outcomes
Project Information
Start
2016
Completion
2019
Prerequisite
None
Executive
Sponsors
Tom Mumley & Greg Gearheart
Lead Staff
Chris Beegan
(916) 341-5912
Support
Staff
Performance Metrics
Attachment