CONNECT WITH US &nbsp
STORMS - Strategy
QUICK LINKS
STORMS Home Page
Projects Page
STORMS Page
Potential Pilot Projects Page
Seminar Series Page
Implementation Committee Page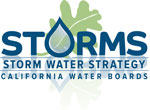 Strategy
FEEDBACK
You may provide feedback on the Storm Water Strategy by submitting the STORMS Feedback Form.
Project 3d: Establish Statewide Regulatory Framework for Municipal Storm Water Programs
Priority:
High
Assessment:
Critically important, achievable with moderate barriers

Prerequisite:
None
Project Objective:
Develop a framework that compliments federal and state regulations, incorporates adaptive management, provides a sustainable pathway to water quality protection, and promotes green infrastructure.
Scope:
Develop a framework that will provide guidance in the development and application of technology and water quality based effluent limits, the incorporation of TMDLs into permits, and addressing impacts to beneficial uses during wet weather conditions. The framework may ultimately be incorporated into the State Implementation Plan for Inland Waters, Enclosed Bays, and Estuaries of California, or equivalent document. This project has a nexus with many of the other projects, particularly Projects 3a, 3b, 3c, 4e, and 5b.
Background:
The NPDES permitting program for municipalities has evolved from the incorporating technology-based standards of reducing pollutants to the maximum extent practicable (MEP) and general compliance with receiving water limitations; to incorporating more targeted water quality based requirements based on TMDL limitations. The approach taken by Regional Boards in locally issued permits varies; accordingly, stakeholders requested that the State Water Board provide better guidance and consistency in the form of a Statewide Storm Water Policy. Furthermore, both stakeholders and regulators seek opportunities to create an adaptable storm water program that will provide for long-term, sustainable water quality protection. This project will provide consistency and guidance for permit writers in their efforts to craft permits that provide for adaptive management and sustainable water quality protection.
Prerequisites:
None.
Products and Timelines:
1 Year: Initiate stakeholder process to receive input on framework.
4 Years: Develop guidelines to implement the framework for both the Water Boards and regulated community. Draft either a stand-alone storm water document for State Water Board consideration of adoption, or incorporate guidelines into the State Implementation Plan for Inland Waters, Enclosed Bays, and Estuaries of California, or equivalent document.
Ongoing: As necessary or required, update the document(s) or guideline(s) to reflect changes or additions.
Phase II
Objective 3
Establish Permit Pathways to Assess Storm Water Programs and Meet Water Quality Requirements
Goal 3
Implement Efficient and Effective Regulatory Programs
Project Information
Name
Establish Statewide Regulatory Framework for Municipal Storm Water Programs
Start
2019
Completion
2024
Progress
Executive
Sponsors
Lead Staff
Support
Staff
Contract Information
Performance Metrics