CONNECT WITH US &nbsp
STORMS - Strategy
QUICK LINKS
STORMS Home Page
Projects Page
STORMS Page
Potential Pilot Projects Page
Seminar Series Page
Implementation Committee Page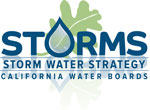 Strategy
FEEDBACK
You may provide feedback on the Storm Water Strategy by submitting the STORMS Feedback Form.
Project 3e: Standardize Minimum Control Measures for Specific Municipal Program Elements
Priority:
Medium
Assessment:
Somewhat important, achievable with moderate barriers

Prerequisite:
None
Project Objective:
Develop permitting and policy-making guidance tools to implement consistent and applicable minimum control measures statewide.
Scope:
Review previous efforts and current permits to identify sections or issues where standardized approaches for storm water permits could improve program efficiency and water quality outcomes. Such focus areas could include minimum control measures for mature program tasks, such as illicit connections/illicit discharges, and establishment of adequate authority for municipalities. Products will consist of minimum control measures for municipal permits.
Background:
Significant time and effort is spent preparing and reissuing municipal storm water permits. The time and resources could be reduced if the Water Boards developed a template for issues that do not have region-specific requirements, or will benefit from a conceptual framework that provides regions flexibility to address unique topographic, climatic, hydrologic, geologic, and land use differences. There were several past efforts to develop either draft statewide municipal permit language or statewide permit template for municipal storm water permits, and though some success was achieved in terms of agreements, these efforts were terminated before any products were finalized.
Products and Timelines:
6 Months: Create a work group and identify permitting issues that could be addressed through development of standardized language and water quality outcomes.
1 Year: Produce permit writing tools and sample permit language for the minimum control measures identified for standardization.
Phase III
Objective 3
Establish Permit Pathways to Assess Storm Water Programs and Meet Water Quality Requirements
Goal 3
Implement Efficient and Effective Regulatory Programs
Project Information
Name
Standardize Minimum Control Measures for Specific Municipal Program Elements
Start
2022
Completion
2023
Progress
Executive
Sponsors
Lead Staff
Support
Staff
Contract Information
Performance Metrics