CONNECT WITH US &nbsp
STORMS - Strategy
QUICK LINKS
STORMS Home Page
Projects Page
STORMS Page
Potential Pilot Projects Page
Seminar Series Page
Implementation Committee Page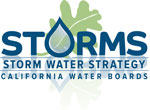 Strategy
FEEDBACK
You may provide feedback on the Storm Water Strategy by submitting the STORMS Feedback Form.
Project 3g: Establish Guidance for Storm Water Program Asset Management Planning and Cost Estimation
Priority:
Low
Assessment:
Somewhat important, achievable with moderate barriers

Prerequisite:
None
Project Objective:
Create a guidance document for local storm water permittees to develop asset management plans that assist municipalities to accurately estimate program assets.
Scope:
Evaluate existing storm water asset management methods and prepare a California-specific method for developing asset management plans.
Background:
The concept of an asset management plan for a watershed is a relatively new concept. An asset management plan is a long-range planning document used to provide a rational framework for understanding and planning the asset portfolio. In California, the City of San Diego has taken the lead on the concept of asset management by developing a Watershed Asset Management Plan (WAMP). The WAMP documents the current state of assets (e.g., asset inventory, valuation, condition, risk) and projects the long-range asset renewal (rehabilitation and replacement) requirements for the City's Storm Water Division. The City has developed a WAMP for each of the six watersheds in the City's jurisdiction; each WAMP identifies the assets owned and managed by the City provides an understanding of critical assets required to deliver the services, records the strategies that will be used to manage the assets, and documents the future investments required to deliver the committed services. This information is used by the City to develop more accurate and transparent cost information that can be provided to the public, which can also be used to demonstrate the need for more stable funding sources.
Products and Timelines:
1 Year: Review existing plans from City of San Diego, U.S. EPA Environmental Finance Center, and others. Develop statewide guidance document for State Water Board consideration of adoption, for storm water permittees to develop a storm water asset management plan.
Phase III
Objective 3
Establish Permit Pathways to Assess Storm Water Programs and Meet Water Quality Requirements
Goal 3
Implement Efficient and Effective Regulatory Programs
Project Information
Name
Establish Guidance for Storm Water Program Asset Management Planning and Cost Estimation
Start
2022
Completion
2023
Progress
Executive
Sponsors
Lead Staff
Support
Staff
Contract Information
Performance Metrics