CONNECT WITH US &nbsp
STORMS - Strategy
QUICK LINKS
STORMS Home Page
Projects Page
STORMS Page
Potential Pilot Projects Page
Seminar Series Page
Implementation Committee Page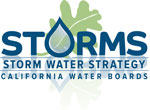 Strategy
FEEDBACK
You may provide feedback on the Storm Water Strategy by submitting the STORMS Feedback Form.
Project 4c: Identify Municipal Storm Water Permit Compliance Cost
Priority:
Medium
Assessment:
Critically important, achievable with significant barriers

Prerequisite:
None
Project Objective:
Develop a framework to identify cost of compliance with storm water permit requirements.
Scope:
Develop a standard accounting and allocation method to estimate the Storm Water Program costs including costs for personnel, operation and maintenance, and capital improvements. The method will differentiate cost of compliance from unrelated costs of infrastructure construction and maintenance.
Background:
Previous studies have shown that municipalities are not consistent in their approaches in estimating the cost of a storm water program. Different accounting and allocation methods (e.g., allocation of street sweeping to which public works program - storm water or street maintenance) are used to assign cost to a program. This creates a range in calculated program costs that varies from municipality to municipality and creates confusion as to the true cost of permit compliance. Previous work that includes cost information will be utilized where possible.
Products and Timelines:
1.5 Years: Produce a staff report outlining costs associated with storm water permits standardized estimating procedures, and a case study. 6 Months: Develop Item for State Water Board consideration of adoption.
Phase II
Objective 4
Establish Financially Sustainable Storm Water Programs
Goal 3
Implement Efficient and Effective Regulatory Programs
Project Information
Name
Identify Municipal Storm Water Permit Compliance Cost
Start
2019
Completion
2021
Progress
Executive
Sponsors
Lead Staff
Support
Staff
Contract Information
Performance Metrics