CONNECT WITH US &nbsp
STORMS - Strategy
QUICK LINKS
STORMS Home Page
Projects Page
STORMS Page
Potential Pilot Projects Page
Seminar Series Page
Implementation Committee Page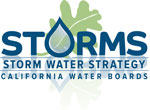 Strategy
FEEDBACK
You may provide feedback on the Storm Water Strategy by submitting the STORMS Feedback Form.
Project 4d: Identify Industrial and Construction Storm Water Permit Compliance Cost
Priority:
Medium
Assessment:
Important, achievable with moderate barriers

Prerequisite:
This project may be informed by Project 5c.
Project Objective:
Establish a procedure for Water Board staff to use in the permit development process that will estimate sector-specific costs for all new requirements in future construction and industrial storm water permits.
Scope:
For some sectors and at the best management practice (BMP) level, identify the range of costs expected for a discharger to be in compliance with the requirements. This information will support the work associated with Project 5c, Sector-Specific Technology-Based Numeric Effluent Limits.
Background:
The Industrial and Construction General Storm Water Permit requirements often result in unknown costs to the discharger(s), and many perceive overall program costs to be increasing. Recent staff attempts to mitigate costs include complex permit systems aimed at aligning costs and/or requirements with riskier and/or more appropriate facilities and situations. However, the missing pieces of information for decision makers are the cost of compliance.
Products and Timelines:
1.5 Years: Produce a staff report outlining costs associated with storm water permits, standardized estimating procedures and a case study.
6 Months: Develop Item for State Water Board consideration of adoption.
Phase III
Objective 4
Establish Financially Sustainable Storm Water Programs
Goal 3
Implement Efficient and Effective Regulatory Programs
Project Information
Name
Identify Industrial and Construction Storm Water Permit Compliance Cost
Start
2028
Completion
2030
Progress
Executive
Sponsors
Lead Staff
Support
Staff
Contract Information
Performance Metrics