CONNECT WITH US &nbsp
STORMS - Strategy
QUICK LINKS
STORMS Home Page
Projects Page
STORMS Page
Potential Pilot Projects Page
Seminar Series Page
Implementation Committee Page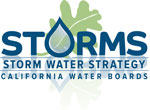 Strategy
FEEDBACK
You may provide feedback on the Storm Water Strategy by submitting the STORMS Feedback Form.
Project 5b: Evaluate and Increase Storm Water Permit Compliance
Priority:
Medium
Assessment:
Important, achievable with significant barriers

Prerequisite:
None
Project Objective:
Develop recommended focus areas for existing storm water permit compliance evaluation, and identify potential additional resources for conducting focused program audits and compliance inspections to deter noncompliance (through increased Water Board staff field presence). Collaborate with other state and local agencies on existing compliance effort.
Scope:
Assist Water Board Storm Water Program staff by focusing compliance evaluations on permit requirements that provide the most effective water quality outcomes. The project includes: (1) research to identify and prioritize elements of the program's permits that require additional resources to determine effective compliance strategies; (2) revisions of the Administrative Procedures Manuals to outline standard methods used by the program for audit, inspection and compliance determination procedures; and (3) collaboration within the agency and with other agencies on increasing the efficiency of the program's inspections, audits and compliance determinations. The project includes assisting the program with outreach to storm water permittees to distribute compliance evaluation results. This compliance assistance is proposed in addition to existing compliance responsibilities, and will provide additional resources for evaluating the overall effectiveness of the Storm Water Program.
Background:
Significant funds are spent annually on storm water audits, inspections and compliance evaluations; however, focused compliance evaluations on key permit requirements related to effective water quality outcomes need to be identified, and will support implementing requirements developed in Storm Water Program permits. Many agencies have a program for audits, inspections, and compliance evaluations that directly overlaps with elements within the Storm Water Program's compliance determinations. This project will provide resources for conducting effective collaboration with other agencies and will identify focused compliance issues that exist across multiple programs statewide. Developing and supporting these partnerships is a crucial element for expanding Storm Water Program staff knowledge on the breadth of environmental concerns at regulated facilities (and MS4s), and it will lead to direct water quality benefits and increased efficiency of compliance determinations.
Products and Timelines:
1 Year: Develop a technical guidance document for State Water Board consideration of adoption that identifies storm water permit compliance areas to focus on, and conduct meetings to disseminate recommendations with associated Water Board storm water programs. If necessary, amend the Administrative Procedures Manual to add additional procedures for the agreed upon enforcement procedures related to the enforcement goals.
3 Months: Provide assistance to the associated Water Board storm water programs in conducting outreach through letters or meetings with permitted storm water facilities and MS4s to disseminate the goals of the outcome-oriented compliance review.
1 Year: Provide resources for developing a point of contact for facilitation between the Water Board Storm Water Program and other agencies that conduct work that overlaps the Storm Water Program and host and attend coordination meetings with other agencies and provide deliverables that assist with compliance determinations statewide. The main objective is to increase the efficiency of compliance determinations and facilitate coordination with other agencies that regulate the same permitted storm water facilities and MS4s of the Storm Water Program.
Ongoing: Provide assistance to the associated Water Board storm water programs in conducting inspections and audits of permitted storm water facilities and MS4s with specific emphasis on the identified outcome-oriented enforcement objectives.
Phase II
Objective 5
Improve and Align State Water Board Oversight of Water Board Programs and Water Quality Planning Efforts
Goal 3
Implement Efficient and Effective Regulatory Programs
Goal 4
Collaborate in Order to Solve Water Quality and Pollutant Problems with an Array of Regulatory and Non-Regulatory Approaches
Project Information
Name
Evaluate and Increase Storm Water Permit Compliance
Start
2019
Completion
2021
Progress
Executive
Sponsors
Lead Staff
Support
Staff
Contract Information
Performance Metrics