CONNECT WITH US &nbsp
STORMS - Strategy
QUICK LINKS
STORMS Home Page
Projects Page
STORMS Page
Potential Pilot Projects Page
Seminar Series Page
Implementation Committee Page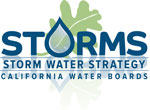 Strategy
FEEDBACK
You may provide feedback on the Storm Water Strategy by submitting the STORMS Feedback Form.
Project 5c: Establish Sector-Specific Technology-Based Numeric Effluent Limitations for Industrial and Construction Storm Water Permits
Priority:
Low
Assessment:
Somewhat important, achievable with significant barriers

Prerequisite:
None
Project Objective:
Continue the collection of pollutant discharge data for specific sectors and implement sector-specific-technology based numeric effluent limitations (NELs) as appropriate, in industrial and construction storm water permits.
Scope:
Review existing effluent and BMP performance data (SMARTS), along with information about industrial and construction scenarios (e.g., high risk) where there is sufficient data to develop a technology based NEL. For each sector and pollutant, determine the control and treatment options to evaluate. Determine the scenarios (e.g., compliance storm) to evaluate. For each scenario, estimate the pollutant load and pollutant load reduction. In the review, include an analysis on how the proposed NELs relate to TMDL requirements, and include researching options for developing NELs that comply with the TMDL requirements. Provide assistance to the associated Water Board storm water programs in conducting outreach via letters or meetings with permitted storm water facilities to discuss the proposed outcomes of this project.
Background:
The Water Boards have the authority to include NELs in NPDES storm water permits. Previously, data to support the development of technology-based NELs for the majority of sectors permitted and pollutants of concern did not exist. While there is not sufficient data to develop NELs across all sectors and pollutants, the Water Boards likely can identify some specific sectors and pollutants for which to develop NELs. The Water Boards can improve efficiency and water quality by evaluating opportunities where the NELs also address TMDL requirements.
Products and Timelines:
1.5 Years: Develop a staff report for public comment summarizing available data (including a data quality analysis) and suggesting sectors and pollutants for technology-based NEL development.

1 Year: Develop a technical document for State Water Board consideration, to outline source control, treatment options, and scenarios to be analyzed.

2.5 Years: Develop a staff report for public comment that estimates pollutant load reductions for each identified scenario, and proposes technology-based NELs.

1 Year: Develop item for State Water Board consideration of adoption, permit language that includes, where appropriate, technology-based NELs.


Phase III
Objective 5
Improve and Align State Water Board Oversight of Water Board Programs and Water Quality Planning Efforts
Goal 3
Implement Efficient and Effective Regulatory Programs
Goal 4
Collaborate in Order to Solve Water Quality and Pollutant Problems with an Array of Regulatory and Non-Regulatory Approaches
Project Information
Name
Establish Sector-specific Technology-based Numeric Effluent Limitations for Industrial and Construction Storm Water Permits
Start
2022
Completion
2028
Progress
Executive
Sponsors
Lead Staff
Support
Staff
Contract Information
Performance Metrics