CONNECT WITH US &nbsp
STORMS - Strategy
QUICK LINKS
STORMS Home Page
Projects Page
STORMS Page
Potential Pilot Projects Page
Seminar Series Page
Implementation Committee Page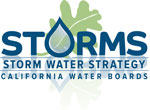 Strategy
FEEDBACK
You may provide feedback on the Storm Water Strategy by submitting the STORMS Feedback Form.
Project 5d: Align Water Quality Statewide Planning Efforts with Storm Water Program Implementation - Pilot Project Using the Biological Integrity Plan
Priority:
High
Assessment:
Important, readily achievable

Prerequisite:
None
Project Objective:
Using the Draft Biological Integrity Plan being prepared by State Water Board staff as a pilot, incorporate compliance endpoints in storm water permits that further support statewide planning efforts.
Scope:
Integrate storm water staff into the Biological Integrity Plan advisory groups to exchange information and use bioassessment(1) in the Storm Water Program. Review the draft bioassessment narrative developed for the Biological Integrity Plan and work with stakeholders to develop a framework for conducting biological assessments and interpreting biological data as a measure of compliance with a storm water permit.
Background:
Statewide water planning efforts often identify the Water Boards' Storm Water Program as a key implementation tool or key partner; examples include the (recently approved) statewide Trash Amendment, sediment quality objectives, and groundwater sustainability planning. The Draft Biological Integrity Plan will provide Water Board staff an opportunity to be involved in the development stage of the plan and better integrate guidance on coordinating plan outcomes and storm water regulations.
Through SWAMP, Water Board staff has developed standard bioassessment protocols and has used them for the past 13 years to monitor the condition of California streams. Bioassessment monitoring requirements have been incorporated into storm water permits to evaluate environmental condition and assess the effectiveness of management actions. The State Water Board's Draft Biological Integrity Plan intends to promote statewide consistency in conducting bioassessments and interpreting biological data. The plan will include an implementation section describing how bioassessment should be incorporated into each Water Board regulatory program.
Products and Timelines:
2 Years: Review existing efforts, identify appropriate use of bioassessment data, and inform the implementation section of the State Water Board's Draft Biological Integrity Plan. (Expected date of State Water Board consideration of adoption of Biological Integrity Plan: Fall 2017)
---
(1)
Bioassessment is a tool for assessing the biological integrity (ecological condition) of a waterbody.
Phase II
Objective 5
Improve and Align State Water Board Oversight of Water Board Programs and Water Quality Planning Efforts
Goal 3
Implement Efficient and Effective Regulatory Programs
Project Information
Name
Align Water Quality Statewide Planning Efforts with Storm Water Program Implementation - Pilot Project Using the Biological Integrity Plan
Start
2019
Completion
2021
Progress
Executive
Sponsors
Lead Staff
Support
Staff
Contract Information
Performance Metrics