CONNECT WITH US &nbsp
STORMS - Strategy
QUICK LINKS
STORMS Home Page
Projects Page
STORMS Page
Potential Pilot Projects Page
Seminar Series Page
Implementation Committee Page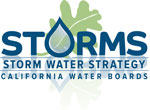 Strategy
FEEDBACK
You may provide feedback on the Storm Water Strategy by submitting the STORMS Feedback Form.

Project 6a: Establish Statewide Framework for Urban Pesticide Reduction
What's New
Update: 10/1/2021
The project team attended the 2021 CASQA Conference. Staff gave a regulatory update during Session 8 (Wednesday, 1pm) on the current working draft concept of the scope and design of the proposed Urban Pesticide Provisions.
2021 Regulatory Update on the Proposed Urban Pesticides Provisions (10/27/21)
Update: 11/1/2020
The project team has been diligently working on various deliverables. Coordination meetings with project partners and stakeholders occur when there are major updates to share.
Update: 5/1/2020
The project team has been going through changes. Sara Huber is the new Project Lead for the Urban Pesticide project. Her email address is sara.huber@waterboards.ca.gov.
Summary of Past Efforts:
The State Water Board contracted with the Aquatic Science Center to develop "start-up" documents for a proposed statewide urban pesticide coordinated monitoring program. A Technical Group and a Steering Committee were formed in 2019. Efforts on the monitoring program are ongoing.
The State Water Resources Control Board and California Department of Pesticide Regulations have responsibilities to protect water quality from the potential adverse effects of pesticides. In 2019, the agencies signed an updated Management Agency Agreement (MAA) and adopted an associated Implementation Plan replacing the original agreement from 1997.The MAA and Implementation Plan were developed and updated to coordinate interactions, facilitate communication at both staff and executive levels, promote problem solving, and ultimately assure the protection of water quality.
Public comments were gathered during a CEQA Scoping workshop held on March 14, 2017 in Sacramento.
As summarized in the 2017 Work Team Report, three teams worked on developing a series of draft documents.
STORMS Objective 6
Increase Source Control and Pollution Prevention
STORMS Goal 2
Manage Storm Water to Preserve Watershed Processes and Achieve Desired Water Quality Outcomes
STORMS Goal 4
Collaborate in Order to Solve Water Quality and Pollutant Problems with an Array of Regulatory and Non-Regulatory Approaches
Project Information
Start
2016
Completion
2023
Prerequisite
None
Executive
Sponsors
Karen Mogus, Tom Mumley
Lead Staff
Sara Huber
(916) 323-0683