CONNECT WITH US &nbsp
STORMS - Strategy
QUICK LINKS
STORMS Home Page
Projects Page
STORMS Page
Potential Pilot Projects Page
Seminar Series Page
Implementation Committee Page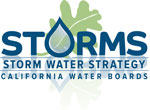 Strategy
FEEDBACK
You may provide feedback on the Storm Water Strategy by submitting the STORMS Feedback Form.

Project 6a: Establish Statewide Framework for Urban Pesticide Reduction
Storm Water Strategy Description
»» Project Priority | Project Objective | Scope | Background | Projects and Timelines
Priority:
High,
Assessment: Important, achievable with moderate barriers
---
Project Objective
Establish statewide source control efforts for pesticides in urban storm water.
---
Scope
Amend the statewide Water Quality Control Plans to account for urban pesticide discharges through a program of implementation that recognizes integrated pest management (IPM) and use management under the authority of agencies that regulate pesticide use as primary mechanisms for urban pesticide pollution prevention. These Urban Pesticides Amendments would include the following components: (1) establish a framework for working with the Department of Pesticide Regulation (DPR) and U.S. EPA Office of Pesticide Programs (OPP) to improve pesticide evaluation and mitigation processes; (2) establish a framework for coordinating pesticide/toxicity monitoring by appropriate agencies; and (3) establish minimum source control efforts for urban storm water permittees.
---
Background
Pesticides continue to cause impairments to urban water bodies across the state, even as "old" pesticide uses are banned and replaced by new pesticides. Some practices and structures can reduce pesticide concentrations, but practically speaking, attaining reductions necessary to meet water quality standards through engineering changes to storm water systems and municipal discharger-led changes to pesticide use practices would likely be cost-prohibitive for two reasons: (1) the pesticides of interest are widely used and cause or contribute to toxicity at very low concentrations, and (2) state law does not allow local authorities to ban or limit pesticide sales and use. Accordingly, the most effective way to reduce urban pesticide-related impairments is through managing pesticide usage via existing state and federal pesticide regulatory authorities. Previous experiences suggest that resources focused on working with pesticide regulators (i.e., DPR and U.S. EPA OPP) to implement their authority will more effectively achieve our goals, as compared to attempting to control pesticides solely by using our own regulatory authorities on municipal dischargers. A statewide framework for urban pesticide pollution control efforts, established via an amendment to the state's Water Quality Control Plans, with a scope including the three elements listed above, could help more effectively and consistently control urban pesticide discharges.

Regional Board staff, mainly from San Francisco Bay and Central Valley Regional Boards, in coordination with CASQA and other members of the Urban Pesticide Pollution Prevention Partnership, has invested significant efforts into working with DPR and U.S. EPA OPP with considerable success. A formal commitment by the Water Boards to implement a pollution prevention framework could strengthen these proactive efforts and relationships with pesticide regulators. A statewide plan would also encourage collective monitoring, data sharing, and education efforts by the regulated community, and establish consistent minimum pesticide source control efforts for urban storm water permittees.

This effort relates to increased use of storm water as a resource for groundwater recharge, as pesticide pollution prevention will benefit groundwater quality in areas where urban runoff is captured for groundwater recharge. Additionally, this project will contribute to the reduction and filtration of runoff, as well as conversion to sustainable landscapes that require fewer chemical inputs.
---
Products and Timelines:
Winter 2016-17: Develop internal workgroup products with sufficient detail to support statewide Plan Amendments and an accompanying Staff Report. This effort includes collaboration with stakeholder groups such as DPR, the California Stormwater Quality Association, Heal the Bay, and U.S. EPA through core Urban Pesticides Amendments workgroups.
Summer 2017: Draft a staff report and policy language laying a general framework for urban pesticides source control including regulatory coordination, pesticide/toxicity monitoring coordination, and establishment of minimum source control efforts for urban storm water permittees.  
Summer 2019: Develop Item for State Water Board consideration through the public review process.
STORMS Objective 6
Increase Source Control and Pollution Prevention
STORMS Goal 2
Manage Storm Water to Preserve Watershed Processes and Achieve Desired Water Quality Outcomes
STORMS Goal 4
Collaborate in Order to Solve Water Quality and Pollutant Problems with an Array of Regulatory and Non-Regulatory Approaches
Project Information
Start
2016
Completion
2023
Prerequisite
None
Executive
Sponsors
Karen Mogus, Tom Mumley
Lead Staff
Sara Huber
(916) 323-0683