CONNECT WITH US &nbsp
STORMS - Strategy
QUICK LINKS
STORMS Home Page
Projects Page
STORMS Page
Potential Pilot Projects Page
Seminar Series Page
Implementation Committee Page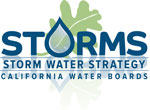 Strategy
FEEDBACK
You may provide feedback on the Storm Water Strategy by submitting the STORMS Feedback Form.

Project 6b: Identify Opportunities for Source Control and Pollution Prevention
What's New

Update: 06/18/19
Staff Report: Discussion and Recommendations to Address Zinc in Urban Receiving Waters


Protect Every Drop - Update 06/15/16
Caltrans released new survey data on June 15, 2016 that shows nearly half of all motorists surveyed admit to sometimes littering along the state's highways. Nearly one in five California motorists report intentionally dumping something on the side of the highway. Survey respondents confirmed they improperly disposed of items ranging from old furniture and appliances to green waste from their yard such as lawn clippings, branches or leaves. In addition, another 6 percent of motorists admitted that they fail to pick up waste left by pets on the side of the highway. The quantitative survey was conducted to measure California highway drivers' awareness, attitudes and behaviors when it comes to maintaining clean highways for the purposes of clean waterways. The survey was conducted in February 2016 by ConsumerQuest Research. Responses were collected from more than 300 California drivers across the state age 18 years of age and older who had driven on California freeways or highways in the last 30 days.
Visit Protect Every Drop to learn more.
STORMS Objective 6
Increase Source Control and Pollution Prevention
STORMS Goal 2
Manage Storm Water to Preserve Watershed Processes and Achieve Desired Water Quality Outcomes
STORMS Goal 4
Collaborate in Order to Solve Water Quality and Pollutant Problems with an Array of Regulatory and Non-Regulatory Approaches
Project Information
Start
2016
Completion
2020
Prerequisite
None
Executive
Sponsors
Tom Mumley & Greg Gearheart
Lead Staff
Matthew Freese
(916) 341-5485
Support
Staff
Performance Metrics
Attachment