CONNECT WITH US &nbsp
The California Water Boards' Annual Performance Report - Fiscal Year 2014-15
| | |
| --- | --- |
| REGULATE: PUBLIC WATER SUPPLY SYSTEMS | |
| | |
| --- | --- |
| GROUP: | COMMUNITY WATER SYSTEMS |

| | |
| --- | --- |
| MEASURE: | |
MEASUREMENTS
| | |
| --- | --- |
| Division of Drinking Water (DDW) regions are different than Regional Water Quality Control Board regions. See the DDW Regional Office map below. | FusionCharts will load here |
FusionCharts will load here
WHAT THE MEASURE IS SHOWING
WHY THIS MEASURE IS IMPORTANT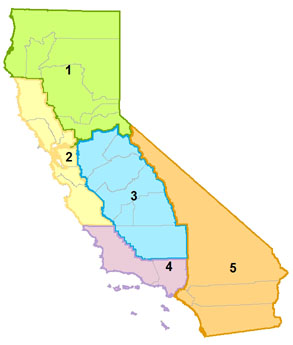 Inspections are a primary tool used to protect public health and ensure that public water systems are able to consistently and reliably deliver an adequate quality and quantity of safe drinking water to the public. The federal Environmental Protection Agency (USEPA) requires that community water systems, a type of public water systems, be inspected every three years. These inspections ensure compliance with the federal
Safe Drinking Water Act (SDWA)
. The State Water Resources Control Board's (State Water Board) Division of Drinking Water (DDW) conducts inspections and documents the findings in sanitary survey reports. However, in some counties, also LPA staff conduct some of the inspections.
TECHNICAL CONSIDERATIONS
Data Source: SDWIS. Period July 1, 2014 to June 30, 2015.
Unit of Measure: Number of public water systems surveyed annually, during the past three FYs.
Data Definitions: Inspections: include sanitary surveys conducted by DDW staff or LPAs.
References:
GLOSSARY
Community Water System

A Community water system is a public water system that serves at least 15 service connections used by yearlong residents or regularly serves at least 25 yearlong residents of the area served by the system.




Local Primary Agency (LPA)

A LPA is a local primacy agency (e.g., county health department) that implements the requirements of the Safe Drinking Water Act for public water systems that have 200 or fewer service connections.




Public Water System

A public water system is a system that provides water for human consumption through pipes or other constructed conveyances, if such a system has at least fifteen service connections or regularly served at least 25 people at least 60 days out of the year.




Safe Drinking Water Information System (SDWIS)

SDWIS is California's safe drinking water information database system.




Sanitary Survey

A sanitary survey is a comprehensive review and inspection to evaluate the adequacy of the water system to provide safe drinking water. The comprehensive evaluation and inspection must include: 1) sources of supply, 2) treatment facilities, 3) distribution system, 4) finished water storage, 5) pumps, pump facilities, and controls, 6) monitoring, reporting, and data verification, 7) system management and operation, and 8) operator compliance with State requirements. The sanitary survey includes an in-office file review and a physical field visit inspection.