Meet the Board Members
E. Joaquin Esquivel, Chair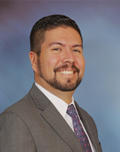 E. Joaquin Esquivel was appointed to the State Water Resources Control Board by Governor Jerry Brown in March 2017 and designated by Governor Gavin Newsom as Chair in February 2019. Previously, he served as Assistant Secretary for federal water policy at the California Natural Resources Agency in the Governor's Washington, D.C. office, where he facilitated the development of policy priorities between the agency, the Governor's Office, the California Congressional delegation, and federal stakeholder agencies.
For more than eight years prior to that he worked for U.S. Senator Barbara Boxer of California, most recently as her legislative assistant covering the agriculture, Native American, water, oceans, and nutrition portfolios, in addition to being the director of information and technology.
He was born and raised in California's Coachella Valley. He holds a BA from the University of California, Santa Barbara in English.
Felicia Marcus
Felicia Marcus was appointed by Governor Jerry Brown to the State Water Resources Control Board (Board) for the State of California in 2012, and designated by the Governor as Chair in April of 2013 until February 2019. The Board implements both federal and state laws regarding drinking water and water quality, and it implements the state's water rights laws. The Board sets statewide water quality, drinking water, and water rights policy, hears appeals of local regional board water quality decisions, decides water rights disputes, and provides financial assistance to communities to upgrade water infrastructure.
Before her appointment to the Water Board, Marcus served in positions in government, the non-profit world, and the private sector. In government, Felicia served as the Regional Administrator of the U.S EPA Region IX in the Clinton Administration where she was known for her work in bringing unlikely allies together for environmental progress and for making the agency more responsive to the communities it serves, particularly Indian Tribes, communities of color, local government, and agricultural and business interests. While at U.S. EPA, Felicia worked extensively on the range of environmental issues under EPA's jurisdiction, most heavily in air quality, Bay-Delta water, tribal, and US-Mexico border issues.
Prior to that, Felicia headed the Los Angeles' Department of Public Works at a time when the City went from garnering lawsuits to garnering national awards for environmental excellence. Felicia came to Public Works after extensive experience as a public interest lawyer and community organizer in Los Angeles, including being a co-founder and general counsel for Heal the Bay. In the non-profit world, she was the Western Director for the Natural Resources Defense Council (NRDC), a national environmental leader in bringing science, law, and policy expertise to solving our world's pressing environmental and conservation challenges. Prior to joining NRDC, Felicia was the Executive VP/COO of the Trust for Public Land (TPL), a national non-profit devoted to conserving land for people. She also was a private and non-profit sector attorney in Los Angeles.
She currently serves or has served in the past on many non-profit boards and Advisory Councils including the Public Policy Institute of California Statewide Leadership Council, Sustainable Conservation, USC-Kesten Institute for Public Finance and Infrastructure Policy, and the Center for Diversity and the Environment. She is also currently an Obama Administration appointee to the Commission on Environmental Cooperation-Joint Public Advisory Council (US, Mexico, Canada) and was a Schwarzenegger Administration appointee to the Delta Stewardship Council prior to being appointed to the Water Board.
Tam M. Doduc
Tam Doduc serves as the civil engineer on the State Water Resources Control Board. Ms. Doduc most recently served as Deputy Secretary at the California Environmental Protection Agency (Cal/EPA), where she directed the agency's environmental justice and external scientific peer review activities. She also coordinated various environmental quality initiatives, and provided general oversight of children's environmental health programs.
Ms. Doduc began her career in 1989 as an environmental consultant. She then joined the staff of the State Water Resources Control Board and, later, the California Air Resources Board. From 1998 to 2002, Ms. Doduc provided technical and business assistance to environmental technology developers and manufacturers, serving in the Office of Environmental Technology and, later, as Cal/EPA's Assistant Secretary for Technology Certification. From 2002 to 2004, Ms. Doduc served as Cal/EPA's Assistant Secretary for Agriculture, Air and Chemical Programs.
A licensed civil engineer, Ms. Doduc earned a Bachelor of Science in BioEngineering from the University of California at Berkeley, and a Master of Science in Civil Engineering from the California State University in Sacramento. She also earned a Master of Business Administration from the University of California at Berkeley.
Dorene D'Adamo
Dorene D'Adamo was appointed to the board by Governor Brown in 2013. She previously served on the California Air Resources Board from 1999-2013 under the Brown, Schwarzenegger and Davis Administrations, where she was instrumental in the board's air quality and climate change programs and regulations.
Ms. D'Adamo served in various capacities for Members of Congress from the San Joaquin Valley over a 20 year period, working primarily on environmental, water and agricultural legislative policy. She served on the Governor's Drought Task Force and currently serves on the board of the California Partnership for the San Joaquin Valley.
Ms. D'Adamo earned a Bachelor of Arts degree from the University of California at Davis and a Juris Doctor from the University of the Pacific, McGeorge School of Law.
Sean Maguire
Sean Maguire was appointed to the State Water Resources Control Board in December 2018 by Governor Brown and is a registered civil engineer. Mr. Maguire has had a diverse career both in both public service and as an engineering consultant, which provides a valuable perspective of the administrative challenges facing a government agency and needs of a broad array of water interests.
From 2015-2018, Mr. Maguire worked for the State Water Resources Control Board as a manager of the Storm Water Grant Program in the Division of Financial Assistance, and later as a manager in the Division of Water Rights where he oversaw administration of water right change petitions, licensing, and cannabis cultivation permitting. Prior to joining the Board, from 2003-2015, he worked for an engineering consulting firm serving a variety of municipalities and water agencies throughout the state, focused on water resources planning, drinking water, and wastewater infrastructure projects. Much of his work revolved around integrated water management and developing long term water supply solutions to meet the needs of both water users and the environment.
Mr. Maguire has a Bachelor of Science in Civil Engineering from California State University, Sacramento.
More Information