CONNECT WITH US &nbsp
GMP RESOURCES
State Intervention Compliance Map
The State Intervention Compliance Map is an interactive map application that allows users to view Geographic Information Systems (GIS) layers showing the compliance status of California's High- or Medium-priority groundwater basins with respect to Sustainable Groundwater Management Act (SGMA) deadlines and requirements. The map below shows the status of GSA formation as of June 29, 2017. Unmanaged areas are shown in RED and managed areas are shown in GREY. Click here or on the map to access the interactive State Intervention Compliance Map.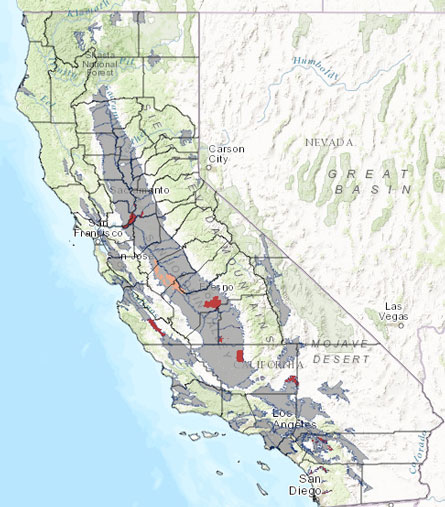 Unmanaged areas include GSA notifications posted within the last 90 days; management status may change. This map is non-binding and is for advisory purposes only. The interactive State Intervention Compliance Map includes additional information about managed and unmanaged areas, and allows users to search for specific locations and zoom in and out of the map.
If you have questions or believe there are discrepancies in the information provided, please contact groundwater_management@waterboards.ca.gov or 916-322-6508.
Subscribe to the "Groundwater Management" email list (in the "General Interests" section).
---