CONNECT WITH US &nbsp
National Pollutant Discharge Elimination System (NPDES)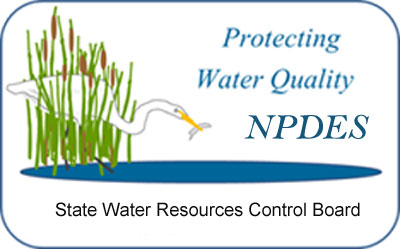 Discharges from hydrostatic testing & site dewatering of NATURAL GAS facilities
Section 402 of the Clean Water Act requires that a discharge of any pollutant or combination of pollutants from a point source to surface waters that are deemed waters of the United States be regulated by an NPDES permit. To provide coverage to discharges by natural gas Facilities to waters of the United States, State Water Board staff is proposing the Statewide General NPDES Permit for Discharges from Hydrostatic Testing and site Dewatering of Natural Gas Facilities. The proposed general permit will cover discharges from natural gas utility construction and maintenance activities throughout the state including hydrostatic pressure testing of pipelines and site dewatering.
Hot News! | Archives | Fees | Ex Parte Disclosure | Contacts
HOT NEWS!
State Water Board staff conducted stakeholder outreach meetings in May 2015 to provide information to interested parties on the proposed statewide permit and to solicit stakeholder input regarding the scope and issues to be addressed in the permit.  The proposed permit is currently being developed. For more information on the discharges that will be covered under the proposed permit, please see the links to the Stakeholder Outreach Meeting Presentation and Fact Sheet below.
Archives
Fees
Ex Parte Disclosure Requirements for Pending General Orders
Any pending Board item is subject to the ex parte communication disclosure requirements of Water Code section 13287. Any communications between interested persons and board members (other than at a noticed board meeting or submitted as a comment letter in compliance with the public notice) must be disclosed by the interested person within seven days of the communication. Sample disclosure forms are available.

Beginning 14 days before scheduled adoption by the Board, ex parte communications between interested persons and board members concerning any Board item are prohibited.

Contacts
Receive updates by subscribing to our email list: Gas Utilities Statewide General NPDES Permit (located in the Water Quality section).