CONNECT WITH US &nbsp
Storm Water Program
Caltrans Program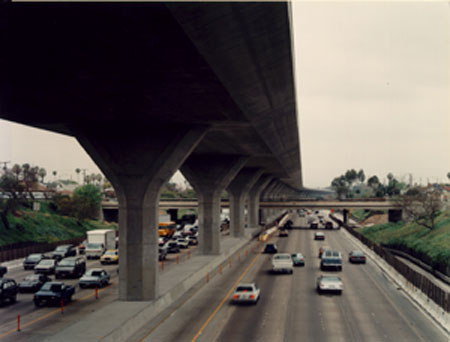 Pursuant to the Federal Water Pollution Control Act (Clean Water Act) section 402(p), storm water permits are required for discharges from a municipal separate storm sewer system (MS4) serving a population of 100,000 or more. USEPA defines an MS4 as a conveyance or system of conveyances (including roads with drainage systems, municipal streets, catch basins, curbs, gutters, ditches, man-made channels, or storm drains) owned or operated by a State (40 CFR 122.26(b)(8)).
The California Department of Transportation (Caltrans) is responsible for the design, construction, management, and maintenance of the State highway system, including freeways, bridges, tunnels, Caltrans' facilities, and related properties, and is subject to the permitting requirements of Clean Water Act section 402(p). Caltrans' discharges consist of storm water and non-storm water discharges from State owned rights-of-way.
Before July 1999, discharges from Caltransí MS4 were regulated by individual NPDES permits issued by the Regional Water Boards. On July 15, 1999, the State Water Board issued a statewide permit (Order No. 99-06-DWQ) which regulated all discharges from Caltrans MS4s, maintenance facilities and construction activities. On September 19, 2012, the Department's permit was re-issued (Order No. 2012-0011-DWQ) and will become effective on July 1, 2013.
Caltransí Storm Water Management Plan (SWMP) describes the procedures and practices used to reduce or eliminate the discharge of pollutants to storm drainage systems and receiving waters. A revised SWMP must be submitted to the State Water Board for approval by July 1, 2014.
Caltrans Permit and Forms
New! Draft Amendment to Caltrans NPDES Permit for Alternate ASBS Priority Discharge Locations
New! Draft Amendment (Statewide Storm Water Permit Waste Discharge Requirements (WDRS) for State of California Department of Transportation)
Permit (Order No. 2012-0011-DWQ)
(effective on July 1, 2013)
Permit ASBS Reopener
New! Draft Permit Amendment (Permit TMDL Implementation Reopener)
Old Permit (Order No. 99-DWQ-06)
(effective on July 15, 1999)
Statewide Storm Water Management Plan (SWMP) - May 2003 (Last approved SWMP)
Annual Report Review and Comment - Caltrans is making available for public review the following documents that report on its storm water management program:

The Statewide SWMP (pending)
The Annual Report
Regional Work Plans