Program Overview
SWAMP is tasked with assessing water quality in all of California's surface waters. The program conducts monitoring directly and through collaborative partnerships, and provides numerous information products, all designed to support water resource management in California. Find out more on the overall program and statewide monitoring efforts at the State Water Board's SWAMP website, including: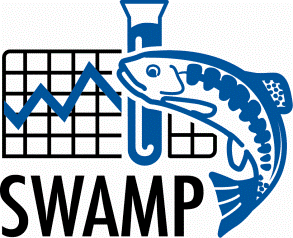 SWAMP produces an annual Achievements Report and Newsletters to highlight accomplishments.


Subscribe to the SWAMP e-mail list for updates on SWAMP activities and reports.
Statewide SWAMP Monitoring and Assessment
SWAMP supports three statewide monitoring efforts:
Central Valley Regional SWAMP Activities
Overview:
Summary of activities within each basin:
Background:
Monitoring Information and Data:
Contact Information
For more information please contact:
---
*Downloading Large Files
Please allow sufficient time for the file to download completely. Depending on your Internet connection service, browser version and computer speed, downloading may take 15 minutes or more for files that are larger than 1 MB. Some browsers, such as certain versions of Internet Explorer, do not show the progress of the download, making it appear that nothing is happening.