CONNECT WITH US &nbsp
Sound Science for Informed Water Quality Management
See what we're doing (& what we've done)
Keep up-to-date on SWAMP activities: Subscribe to the SWAMP Water Quality Monitoring email list.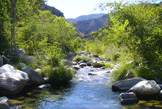 Read the new SWAMP Newsletter
---
Mercury Risks To Wildlife In California Lakes: Statewide Survey Finds Fish-Eating Birds At Risk in Many Lakes (December 2015)
California Stream Condition Index (CSCI) Fact Sheet (June 2015)
Toxicity Recommendations Memo (September 2015)
The North Coast Region SWAMP program has completed two new Data Reports, one on Groundwater Data, and one on Surface Water & Sediment Data (November 2015).
The California Aquatic Bioassessment Workgroup (CABW) meeting slide presentations are now web posted. This year's 2015 October 20th-21st meeting at UC Davis included presentations on creek & meadow restoration, causal assessments, & juvenile salmonids in intermittent streams, among other topics.
PSA Management Memo: An Assessment of Biological Condition using the new California Stream Condition Index (CSCI) (June 2015)
Final Report: Region 8 Multiyear Report Wadeable Streams Bioassessment Santa Ana Region (2006 - 2011) - May 2015
Announcing SWAMP's new Bioassessment Website (2015)
The Surface Water Ambient Monitoring Program (SWAMP) is pleased to announce the release of a new technical memo titled "The California Stream Condition Index (CSCI): A New Statewide Biological Scoring Tool for Assessing the Health of Freshwater Streams," and CSCI Scores Map & Interim instructions for calculating scores using GIS and R (October 2015).
The California CyanoHAB (Cyanobacteria Harmful Algal Blooms) Network (2015), a Workgroup of the California Water Quality Monitoring Council, has a dedicated website now. An online Webinar is also now available: the Water Quality Monitoring Collaborative Network presents: Widespread Prevalence of Cyanobacteria &; Cyanotoxins from a Variety of California Waterbodies by David A Caron, Avery O. Tatters and Meredith Howard
The Surface Water Ambient Monitoring Program (SWAMP) is pleased to present the 2014 update to the SWAMP Achievements Report. The Achievements Report highlights recent accomplishments of SWAMP and its partners, framing the many projects SWAMP is a part of in the context of their value to the State of California and the public at large.
SWAMP now has all the videos from the 2014 California Aquatic Bioassessment Workgroup (CABW) Web Posted
Going fishing soon? Is it a good idea to eat what you catch from your local river, stream, reservoir or lake? Check it out at...
http://www.mywaterquality.ca.gov/safe_to_eat/consumption_advisories/ or http://www.oehha.ca.gov/fish/so_cal/
Now that winter rains have arrived, check out your local stream or river to see the changes! It's still possible your nearest stream may not have water in this 4th year of drought. However, if your stream now has water flowing again, you can use our Rivers & Streams Portal to see what to look for. As winter weather & this year's El Nino effects come on & for your own safety, please stay away from any landslide or flash flood hazard areas during and following major storms.
How does recreation at your local beach look? Is the water quality OK for wading, surfing, or swimming? Check out your nearest ocean beaches, Lake Tahoe, Eldorado County and San Francisco Bay area spots at: http://www.mywaterquality.ca.gov/safe_to_swim/. Remember the water is not healthy & safe for 3 days following a major storm, due to polluted runoff.
2014 SWAMP Review: In 2014 SWAMP conducted an internal programmatic review to evaluate program functions and effectiveness, and to recommend actions to ensure the program's continued success.
The Stream Pollution Trends Program (SPoT) has a new web page on the SWAMP website and the 2014 SPoT report has recently been released. Please review the new web page and see five years of data trends in the 2014 report, Trends in Chemical Contamination, Toxicity and Land Use in California Watersheds.
SWAMP is pleased to present the
SWAMP Safe-to-Swim Study Region 5, Central Valley Region. (July 2014)
From the State Water Board! The Water Board has developed a Quality Assurance/Quality Control Website (Late 2013 - Early 2014). You may access it at:
http://www.waterboards.ca.gov/water_issues/programs/quality_assurance/
From SWAMP Partners: Now Available from the Healthy Streams Partnership: California Integrated Assessment of Watershed Health: A report on the Status and Vulnerability of Watershed Health in California, 2013. Prepared by the Cadmus Group, Inc., and the California Healthy Streams Partnership for the U.S. Environmental Protection Agency. EPA-841-R-14-003. November 2013. 118 pp.
SWAMP has released the program's first Freshwater Algae Report: (The) Condition of California Perennial, Wadeable Streams Based on Algal Indicators - October 2013. SWAMP's overall algae work can be found at: Freshwater Algae Reports.
Water Quality Monitoring Collaboration Network Monthly Webinars
Creek Watch: Using iPhones to Help Our Watersheds
SWAMP Field Methods Course - Now complete with the addition of Module 7: Biological & Physical Assessments
OIMA Brown Bag Seminar Series
The Office of Information Management and Analysis (OIMA) is pleased to announce that it has organized a monthly Brown Bag Seminar series for 2016. All staff and the public interested in water quality data analysis and monitoring are invited to attend.
California Assessment and Support Strategy for Freshwater Harmful Algal Blooms - Thursday, January 28 12:00-12:30 PM | Flyer
Meet our Partners
SWAMP has developed a rich and varied network of partners over the years.

Go to the "Meet Our Partners" webpage to be directed to the project/partner feature page.
Contact information
Contact Mary Tappel for assistance finding reports, tools, templates, Standard Operating Procedures (SOPs), or any general monitoring information on this large SWAMP website:
Mary Tappel
Mary.Tappel@waterboards.ca.gov
916-341-5491