CONNECT WITH US &nbsp
GRANTS AND LOANS


Storm Water Grant Program (SWGP) - Prop 1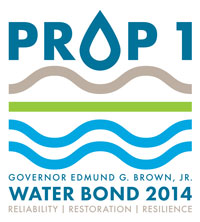 Announcements
NEW!
Updated 06/24/16 Frequently Asked Questions (FAQs)
Accepting applications for Round 1 Implementation projects in
FAAST
NEW!
June 16, 2016 Round 1 Implementation Grant Webinar Materials
NEW!
Round 1 Implementation grant application solicitation closes on July 8th 2016 at 4pm.
Prop 1 SWGP
Prop 1
Prop 1 (Assembly Bill 1471, Rendon)authorized $7.545 billion in general obligation bonds for water projects including surface and groundwater storage, ecosystem and watershed protection and restoration, and drinking water protection. The State Water Board will administer Prop 1 funds for five programs. Of the $7.545 billion, Prop 1 (Section 79747) provides $200 million in grant funds for multi-benefit storm water management projects.
Water Code section 79747 identifies funds available for multi-benefit storm water management projects which may include, but shall not be limited to: green infrastructure, rainwater and storm water capture projects and storm water treatment facilities. Storm Water Resource Plans, or functionally equivalent plan(s), are required to obtain grant funds for storm water and dry weather capture projects.
The State Water Resources Control Board (State Water Board) adopted the final Storm Water Resource Plan Guidelines and the Proposition 1 (Prop 1) SWGP Guidelines on December 15, 2015. The final guidelines are available below.
Prop 1 DRAFT Implementation Grant Agreement Template - COMING SOON!
(NOTE TO ROUND 1 SWGP IMPLEMENTATION GRANT APPLICANTS: PLEASE REVIEW THE PLANNING GRANT AGREEMENT TEMPLATE TERMS AND CONDITIONS PRIOR TO SUBMITTING A GRANT APPLICATION; THE DRAFT IMPLEMENTATION GRANT AGREEMENT WILL BE MADE AVAILABLE AS SOON AS POSSIBLE.)
The Prop 1 SWGP proposal workshops were conducted in January and February of 2016. The workshops provide valuable information on how to apply and discuses questions associated with the applications. The Information presented in the workshops is provided below including a video of the Prop 1 SWGP Proposal Solicitation Workshop conducted in Sacramento below.
A final Prop 1 SWGP implementation webinar was held June 16, 2016. The PowerPoint slides and supporting materials are provided at the link below. The FAQ has also been updated with responses to many of the questions received during the webinar.
Grant Solicitation Templates and Examples
Implementation Grant Templates
Note: There are
no templates for Attachments 3, 5, 6, 9, 10, 11, and 12
. Please refer to the guidelines for details on the information required for each attachment.
Funding Information
Eligible Applicants:

Public agencies, nonprofit organizations, public utilities, federally recognized Indian tribes, state Indian tribes listed on Native American Heritage Commission's California Tribal Consultation List, and mutual water companies.

Eligible Project Types:

Implementation - Multi-benefit storm water management projects which may include, but shall not be limited to, green infrastructure, rainwater and storm water capture projects and storm water treatment facilities.

Planning - Development of Storm Water Resource Plans to meet the requirements of Water Code section 10562 and related State Water Board guidelines and project-specific planning projects.

Funding Available:

$200 million.

Funding Source:

Loans or Grants:

Grants

Applications:

ROUND 1: Open Now! Accepting application in FAAST
ROUND 2: Tentative for 2018
Proposed Timeline
Project Milestones

Date

Round 1 Solicitation Opens

Pre-application (optional)
Planning
Implementation

January 19, 2016

Pre-applications

Closed

Planning Solicitations

Closed

Final Planning Grant Funding List

June 2016

Implementation Solicitation Closes

Friday July 8, 2016, 4pm

Final Implementation Grant Funding List

October 2016

Storm Water Resource Plan Due
No Later than 90 Days after Final Grant Funding List is Issued
Storm Water Resource Plans and Concurrence Review Process
Water Code section 10563 (as amended by Senate Bill 985) requires public agencies to develop a Storm Water Resource Plan as a condition of receiving grant funds from a bond (approved after January 2014) for storm water and dry weather runoff capture projects. The intent of Senate Bill 985 is to encourage the use of storm water and dry weather runoff as a resource to improve water quality, reduce localized flooding, and increase water supplies for beneficial uses and the environment.
Water Code section 10565 requires the State Water Board to establish guidance for entities developing Storm Water Resource Plans. The guidance must include, at a minimum:
Identification of types of local agencies and nongovernmental organizations that need to be consulted in developing a Storm Water Resource Plan;
Definition of the appropriate quantitative methods for identifying and prioritizing opportunities for storm water and dry weather runoff capture projects;
Definition of the appropriate geographic scale of watersheds for storm water resource planning; and
Other guidance the board deems appropriate to achieve the objectives of Water Code sections 10562 - 10565.
State Water Board will review SWRPs and functionally equivalent SWRPs to determine whether the plans are consistent with water code and the SWRP Guidelines. It is incumbent upon the applicant to the self-certify completeness of the plan; however, the State Water Board will review to verify that the requirements were properly addressed through a concurrence review process. A SWRP or a Functionally Equivalent Plan self-certification checklist must be reviewed by the State Water Board in order to confirm eligibility to receive SWGP grant funds.
Even though the SWRP's are not due until 90 days after final implementation grant award funding list, we encourage applicants to have their plans reviewed in advance. For a State Water Board concurrence review of your SWRP, please submit your proposed SWRP, a completed self-certification checklist, and a cover letter explaining the approach used to arrive at a functionally equivalent document with your FAAST implementation grant application or to DFA_Grants@waterboards.ca.gov.
Contact Information
For more information, contact us at: DFA_Grants@waterboards.ca.gov
Sean Maguire, Program Manager
(916) 341-5877
Sean.Maguire@waterboards.ca.gov
Ruben Mora, WRCE
(916) 341-5387
Ruben.Mora@waterboards.ca.gov

Division of Financial Assistance
Storm Water Grant Program
1001 I Street
Sacramento, CA 94244-2120

Sign up for the Storm Water Grant Program email list ("Financial Assistance" section).
Reference Materials
Sacramento State Office of Water Programs designed a California Phase II LID Sizing Tool through a Prop 84 SWGP Planning Grant. The Sizing Tool can be used to assist in selecting and sizing LID BMPs that meet the sizing requirements in the statewide Phase II MS4 permit.
The International Stormwater Best Management Practices (BMP) Database project website features a database of over 530 BMP studies, performance analysis results, tools for use in BMP performance studies, monitoring guidance and other study-related publications.
Funded Projects
Project selection is anticipated in spring and fall 2016.