Source Water Protection
Overview
The Non-Point Source Implementation Plan outlines the efforts of Source Water Protection in Region 6 to be directed toward dairy operations. Dairy operations produce wastewater and manure containing nutrients and salts. Other constituents of concern include heavy metals, pathogens, antibiotics, and hormones (Bradford et al, 2008). When not properly managed these wastes adversely affect surface and groundwater quality.
The Lahontan Regional Water Quality Control Board (Water Board) has tracked and, in some cases, regulated the groundwater quality impact of confined animal facilities (CAFs) since 1983. In the intervening time, Water Board staff have developed and presented strategies and items for Board adoption to deal with the potential or recognized water quality impact to groundwater. For the purposes of these projects, Water Board staff have considered any facility housing either more than 50 animal units (AUs, defined as 1,000 pounds of animal weight) or 500 or more animals, whichever is fewer, to be a CAF.
Regional Efforts
Staff monitor the status of 13 active and former CAFs. Individual waste discharge requirements (WDRs) were issued to four dairies. Currently, there are eight active dairies and heifer ranches and five closed or closing facilities. Under cleanup and abatement orders or settlement agreement, five CAFs are providing replacement bottled water to nearby residences. Replacement drinking water must be provided to any resident having nitrate and total dissolved solids concentrations close to and/or over the primary and secondary drinking water standards.
All eight active facilities are regularly inspected and assessed regarding water quality impact reduction practices. Implementing these practices is voluntary for facilities who are not regulated by WDRs. However, detected impacts to water quality can lead to regulated enforcement actions.
Closed (and closing) facilities may also have impacted groundwater. This is particularly true if any contaminated materials are left onsite. To assist closures, Water Board staff send closure letters to these facilities with specific steps. These steps may include demonstrating manure removal throughout the facility and assessing groundwater to determine the extent of any possible nitrate and total dissolved solids (TDS) contamination. Depending on the condition of the site, the responsible parties may be required, under enforcement actions, to improve site cleanup activities and/or groundwater cleanup remediation efforts prior to departure.
Resources
Regulated and Enforcement Action Dairy Operations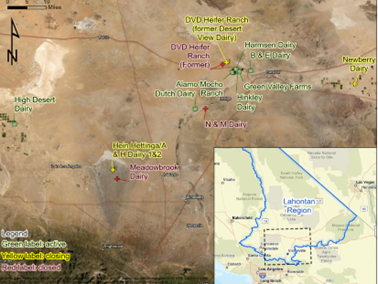 Figure 1: Represents active, closing, and closed dairies
in the Lahontan Region as of April 2022
Staff Contacts
John Morales, Water Resource Control Engineer
Wastewater and Agriculture Unit
John.Morales@waterboards.ca.gov
Ghasem Pour-ghasemi, Senior Water Resource Control Engineer
Wastewater and Agriculture Unit
Ghasem.Pour-ghasemi@waterboards.ca.gov