Waste Discharge Requirements for Confined Dairy and Other Cattle Facilities
What is the intent?
The Lahontan Water Board will consider new General Waste Discharge Requirements (WDRs) for Confined Dairy and other Cattle Facilities (Dairy Order). These requirements are intended to protect the receiving groundwater quality from discharges of wash water, stormwater, manure in corrals and stockpiles, and over application of manure.
Who is eligible?
Confined Dairy and other Cattle Facilities
Location: the discharge must be located in the Lahontan Region (see boundary as blue outline in Figure 1 and outside an area prohibiting a discharge of waste to land. Known existing and closed facilities are shown in Figure 2.
Waste source: the waste originates from production areas at a facility housing dairy cows, heifers, or other cattle for feeding or slaughter.
Operations and capacity: facilities operating more than seasonally and housing at least 50 animal units.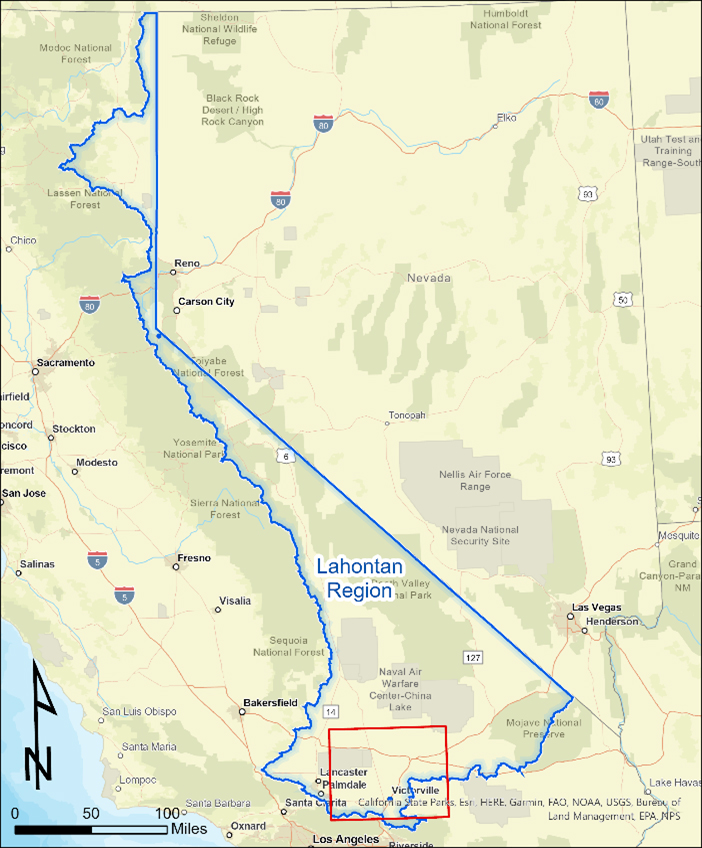 What will be required?
Key Order and Monitoring Elements
Enrollment of existing facilities. There are existing facilities who will need to apply for coverage under the Dairy Order (these facilities shown on Figure 1) through a Notice of Intent (NOI), serving as a report of waste discharge pursuant to the California Water Code, section 13260. The NOI enrollment application includes site and waste management information. Of the application parts, a nutrient management plan is a key piece of waste management information that is required as part of the NOI and a Monitoring and Reporting Program.
Waste management system for waste collection, transfer, storage, and disposal. Each facility incorporates appropriate best management practices to avoid degradation of groundwater quality. Required best management practices include:

Decommissioning and prohibiting unlined wash water disposal ponds along with constructing lined wash water disposal ponds. The General WDRs will allow five years for a facility to come into compliance.
Applying wash water to sufficient land area.
Limiting total dissolved solids concentrations to less than or equal to 1,000 milligrams per liter for irrigation water containing wash water.
Limiting dry manure used as soil amendment to 2.5 tons per acre per year.

Monitoring and reporting program. This program demonstrates the continued functionality of the waste management system and provides insight into ongoing groundwater conditions. Specifically, the combined sampling data collected for onsite waste disposal (solids and liquids), plant tissues, soil, and groundwater are intended to demonstrate whether onsite activities are creating water quality impacts. Monitoring and reporting requirements include:

Allowing five years to install a minimum of three groundwater monitoring wells.
Submitting key one-time and recurring plans and reports, as described in the following table.

| Submittal | Timeline |
| --- | --- |
| Sampling and Analysis Plan | Due 90 days after Notice of Applicability signed |
| Groundwater Monitoring Report | Due every July 15 and January 15 |
| Annual Report | Due every January 15 |
| Waste Management Plan (including Nutrient Management Plan updates) | Due initially and every five years |
Subscribe to our Confined Animal Facilities email list to receive notifications and the latest updates. After subscribing, you will need to check your email host for a confirmation email to complete the subscription.
Subscribe to our other email lists.
Contact Us
Sources of additional information
What do some of these words mean?
Animal unit equals 1,000 pounds weight of animal(s). Typically, a mature milk cow is equivalent to 1.4 animal units and beef cattle are each equivalent to 1 animal unit.
Confined Animal Facility (CAF) is defined in California Code of Regulations (CCR), title 27, section 20164, as any place where cattle, sheep, swine, horses, mules, goats, or other domestic animals are corralled, penned, tethered, or otherwise enclosed or held and where feeding is by means other than grazing.
Seasonally refers to situations when animals have been, are, or will be stabled or confined and fed or maintained for a total of 45 days or more in any 12-month period, and crops, vegetation, forage growth, or post-harvest residues are not sustained in the normal growing season over any portion of the lot or facility.