Spills and Aboveground Storage Tank Program
Program Description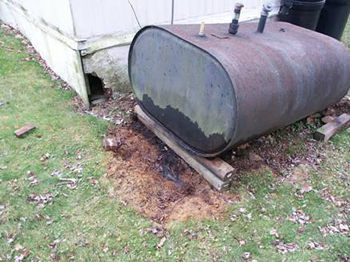 Spill/Release reporting and above ground storage tanks are described below and handled by the Certified Unified Program Agency.
SPILL/RELEASE REPORTING
In California, any significant release or threatened release of a hazardous material requires immediate reporting by the responsible person to the Cal OES State Warning Center (800) 852-7550 and the Certified Unified Program Agency (CUPA) or 911. The CUPA may designate a call to 911 as meeting the requirements to call them. Contact information for your jurisdiction's CUPA can be found at http://cersapps.calepa.ca.gov/Public/Directory/ or http://cersapps.calepa.ca.gov/Public/UPAListing. Notifying the State Warning Center (800) 852-7550 and the CUPA or 911 constitutes compliance with the requirements of section 11004 of title 42 of the United States Code regarding verbal notification of SERC and LEPC (California Code of Regulations, Title 19 Section 2703 (e)).
ABOVEGROUND STORAGE TANKS
Effective January 1, 2008, the Certified Unified Program Agencies (CUPAs) are vested with the responsibility and authority to implement the Aboveground Petroleum Storage Act (APSA). Please visit the Certified Unified Program Agency Aboveground Petroleum Storage Act Website for additional information.
APSA regulates facilities with aggregate aboveground petroleum storage capacities of 1,320 gallons or more, which include aboveground storage containers or tanks with petroleum storage capacities of 55 gallons or greater. These facilities typically include large petroleum tank facilities, aboveground fuel tank stations and vehicle repair shops with aboveground petroleum storage tanks.
The Act does not regulate non-petroleum products. Facilities with total petroleum storage quantities at or above 10,000 gallons are inspected at least once every three years by a Unified Program Agency and have reporting and fee requirements, while facilities with petroleum storage quantities equal to or greater than 1,320 gallons but less than 10,000 gallons have reporting and fee requirements only. All regulated facilities must meet the federal SPCC rule requirements.
In the event of a petroleum release or discharge for an APSA tank facility, contact the Regional Water Board. Cleanup or abatement may be required.
Department of Toxic Substances Control Certified Unified Program Agencies (CUPA)
The Enforcement and Emergency Response Program (EERP) administers the technical implementation of the state's Unified Program- a consolidation of six environmental programs at the local level. EERP conducts triennial reviews of Unified Program agencies to ensure their programs are consistent statewide, conform to standards, and deliver quality environmental protection at the local level. EERP oversees the hazardous waste generator and onsite waste treatment surveillance and enforcement program carried out by local Unified Programs.
DTSC was certified, effective January 1, 2005, to be the CUPA for Imperial County. Hazardous Materials Division of the San Bernardino County Fire Department is the CUPA for San Bernardino County. The Riverside County Department of Environmental, Health Hazardous Materials Branch is the CUPA for Riverside County. The County of San Diego, Department of Environmental Health, Hazardous Materials Division is the CUPA for County of San Diego.
The Unified Program consolidates, coordinates, and makes consistent the administrative requirements, permits, inspections, and enforcement activities of six environmental and emergency response programs. The state agencies responsible for these programs set the standards for their program while local governments implement the standards. CalEPA oversees the implementation of the program as a whole. The Unified Program is implemented at the local level by 83 government agencies certified by the Secretary of CalEPA.
GeoTracker Database Information
The GeoTracker data warehouse and geographic information system (GIS) provides online access to environmental data. It is used to plot UST site and monitoring well locations and track regulatory information about UST facilities, Spills, Leaks, Investigations, and Cleanup (SLIC) sites, and public drinking water wells, and in the future will include other types of cleanup and investigation sites, including Department of Defense (DoD), Landfill, and Aboveground Storage Tank facilities. GeoTracker uses commercially available software to allow users, including the public, to access data over the Internet. Case information can be graphically displayed as a layer on GeoTracker, including highways and roads, topographic maps, surface water boundaries, watershed boundaries, groundwater basins, and hydrologic vulnerability areas by entering a site address, partial site address, or site name. Legislation which became effective on September 1, 2001 requires the submission of electronic laboratory data.
GAMA - Groundwater Ambient Monitoring & Assessment Program
GeoTracker GAMA is an online groundwater information system that gives you access to water quality data and connects you to groundwater basics and protection information. This online database integrates groundwater quality data from multiple sources, which are searchable by chemical or location with results displayed on an interactive Google maps interface.
For more information on potential funding sources for brownfields sites, refer to the Center for Creative Land Recycling's (CCLR) funding list. CCLR offers technical assistance to communities under USEPA's Technical Assistance to Brownfields (TAB) program.
Public Reports
The following links provide public information that is available
Questions or Comments
Hazmat Spill Notifications Information: (800) 852-7550
GeoTracker Help Desk - Email: GeoTracker Help Desk or phone (866) 480-1028.
Regional Water Board Contact Information
Regional Water Board Contact
Angela Garcia, PG
Senior Engineering Geologist
Email: angela.garcia@waterboards.ca.gov
Phone: (760) 674-8613
Colorado River Basin Regional Water Quality Control Board
73-720 Fred Waring Drive Suite 100
Palm Desert, CA 92260
Fax (760) 341-6820