WATER QUALITY AND WATERSHEDS
DISCLAIMER
The information provided on water quality and watersheds was produced by the staff of the California Regional Water Quality Control Board, Los Angeles Region, for educational purposes.
No policy or regulation is either expressed or intended.
Water resource protection efforts of the State Water Resources Control Board (State Water Board) and the Regional Water Quality Control Boards (Regional Boards) are guided by a five-year Strategic Plan. A key component of the Strategic Plan is utilization of a watershed management approach for water resources protection.
To protect water resources within a watershed context, a mix of point and nonpoint source discharges, ground and surface water interactions, and water quality/water quantity relationships must be considered. These complex relationships present considerable challenges to water resource protection programs but working on a watershed basis can also lead to promoting cooperative, collaborative efforts and focus limited resources on key issues using sound science.
The Los Angeles Regional Board has jurisdiction over all coastal drainages flowing to the Pacific Ocean between Rincon Point (on the coast in western Ventura County) and the eastern Los Angeles County line, as well as the drainages of five coastal islands (Anacapa, San Nicolas, Santa Barbara, Santa Catalina, and San Clemente). The Regional Board's jurisdiction also includes all coastal waters within three miles of the continental and island coastlines.
The Los Angeles Region is the State's most densely populated and industrialized region. Approximately 1,000 discharges of wastewater from point sources in this Region are regulated by the Los Angeles Regional Board. About half of these point sources discharge to surface waters, and are regulated by National Pollutant Discharge Elimination System (NPDES) permits. In addition, the Regional Board prescribes Waste Discharge Requirements (WDRs) for the remaining discharges, which are primarily to ground waters and landfills.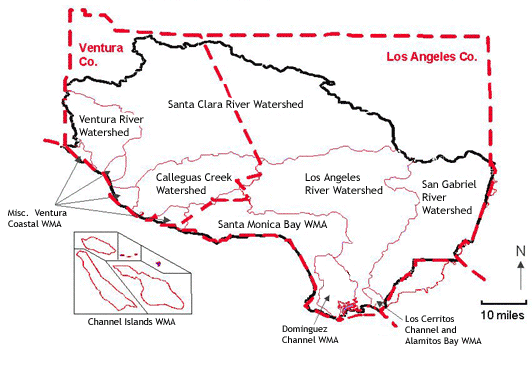 The Region encompasses ten Watershed Management Areas (WMAs) which are geographically-defined watershed areas as shown in the map. Click on the hyperlinks for each watershed to learn about significant issues in our watershed management areas.
The WMAs are generally single large watersheds, within which exist smaller subwatersheds. However, in some cases they may be an area that does not meet the strict hydrologic definition of a watershed (e.g., several small Ventura coastal waterbodies in the region are grouped together into one WMA). Watersheds in the strictest sense are geographic areas draining into a river system, ocean or other body of water through a single outlet and include the receiving waters. They are usually bordered and separated from other watersheds by mountain ridges or other naturally elevated areas.Click to see a map of the Region's topography.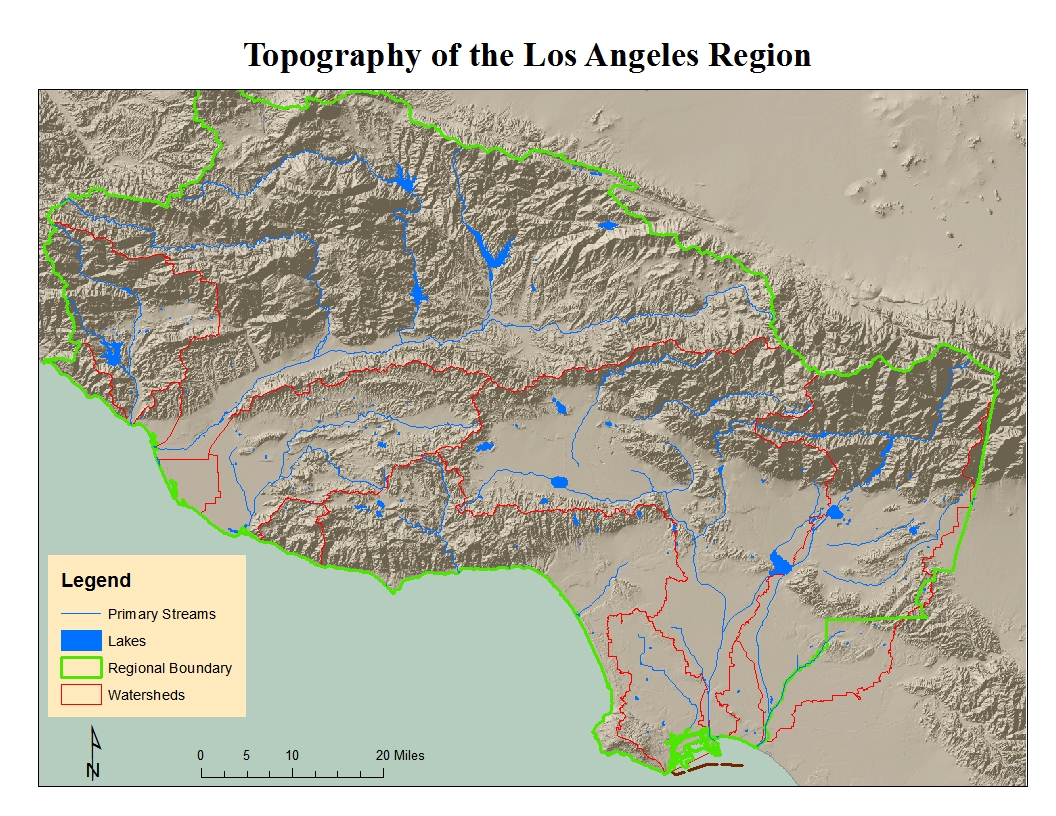 Many of the watersheds in this Region range over large areas that are highly diverse. A Designated Wilderness Area may occur in one part of a watershed while extensive development dominates another part and possibly agriculture exists in yet a different area of the watershed. This results in a great diversity of issues of concern to this agency in any particular watershed with the concomitant need to balance priorities among existing stakeholders.
The Regional Board implements a wide variety of programs and activities in order to protect water quality. More information on Regional Board activities and programs may be found on the Board's webpage at http://www.waterboards.ca.gov/losangeles. Additionally, many Statewide policies and programs are implemented by the Regional Board; further information may be found on the State Water Board's webpage at http://www.waterboards.ca.gov/.
Below are other useful links to data and information about the State's regulation of water quality:
California Watershed Assessment Manual (UC Davis)
http://cwam.ucdavis.edu/