SITE CLEANUP PROGRAM (SCP)
Formerly Spills, Leaks, Investigations and Cleanups (SLIC)
The objectives of the Los Angeles Regional Water Quality Control Board's site cleanup program are to protect and restore water resources, and to uphold stringent goals to protect human health, water quality and the environment, today and into the future.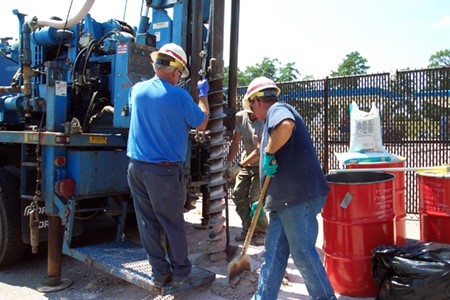 The Site Cleanup Program (SCP) regulates and oversees the investigation and cleanup of unauthorized discharges of pollutants and pollution-impaired sites not overseen by the Underground Tank Program. The primary goal of the SCP is to direct and provide oversight of site investigation and cleanup activities that will result in restoration and/or protection of water quality, human health, and the environment.
The scope of the SCP is not restricted to particular pollutants or environments; it covers all types of pollutants, such as solvents, petroleum fuels, and heavy metals, and all environments, including surface water, groundwater, and the vadose zone (also known as the unsaturated zone extending from the top of the ground surface to the water table).
Upon confirmation that an unauthorized discharge is polluting or threatening to pollute regional water bodies, the Los Angeles Regional Water Quality Control Board (Regional Water Board) has the legal and regulatory authority to oversee site investigations and direct corrective actions. The California Water Code provides authority for the State Water Resources Control Board and the Regional Water Boards to require investigation and cleanup of sites with unauthorized pollutant releases.
LEGISLATION GUIDING CLEANUP AND REMEDIATION
PROPOSITION 65: Proposition 65, the Safe Drinking Water and Toxic Enforcement Act of 1986, was enacted as a ballot initiative in November 1986. The Proposition was proposed by its authors to protect California citizens and the State's drinking water sources from chemicals known to cause cancer, birth defects or other reproductive harm, and to inform citizens about exposures to such chemicals.
Please visit http://www.oehha.ca.gov/prop65.html for additional information.
For a list of chemicals, please review the fact sheet:
SENATE BILL 445: The goal of Senate Bill 445 (SB 445) is to conduct work on impacted sites that would generally fall outside of the cost recovery program. Sites with potential human health impacts due to on-going soil, soil gas, and groundwater contamination, sites with directives or orders (i.e., California Water Code sections 13267 and 13304), sites with limited financial or discretionary resources to fund required investigation work, sites with no known responsible parties, sites in economically disadvantaged areas or small communities, sites impacting water supply wells, sites in communities with limited or no water supply resource, industrial or impacted sites within residential areas, and backlogged impacted cases that fall within the above categories, can apply for financial assistance. Financial assistance under SB 445 is provided through the Site Cleanup Subaccount Program (SCAP). SCAP allows the State Water Resources Control Board to provide funding for projects that remediate the harm or threat of harm to human health, safety, or the environment caused by existing or threatened surface water or groundwater contamination. Addition information regarding SB 445 is available as follows:
http://www.waterboards.ca.gov/water_issues/programs/grants_loans/scap/
or contact the Financial Assistant (Grants & Loan) section at 1-800-813-3863
or email
gwquality.funding@waterboards.ca.gov
.
Water Regulation
Water Code Section 13267 authorizes the Water Boards to require technical reports from suspected dischargers.
Water Code Section 13304 authorizes the Water Boards to issue "cleanup and abatement" orders requiring a discharger to cleanup and abate waste "where the discharger has caused or permitted waste to be discharged or deposited where it is or probably will be discharged into waters of the State and creates or threatens to create a condition of pollution or nuisance." Water Code Section 13304 also authorizes the Regional Water Boards to recover costs for oversight of site cleanup at these sites.
State Water Board Resolution No. 92-49, "Policies and Procedures for Investigation, Cleanup and Abatement of Discharges Under Water Code Section 13304", State Water Board Resolution No. 68-16, "Statement of Policy with Respect to Maintaining High Quality of Waters in California"; and State Water Board Resolution No. 88-63,"Sources of Drinking Water", contain the policies and procedures that all Water Boards shall follow to oversee and regulate investigations and cleanup and abatement activities resulting from all types of discharge or threat of discharge subject to Water Code Section 13304.