Climate Change Readiness
Quick Links
Home | Guiding Principles | Resources
Introduction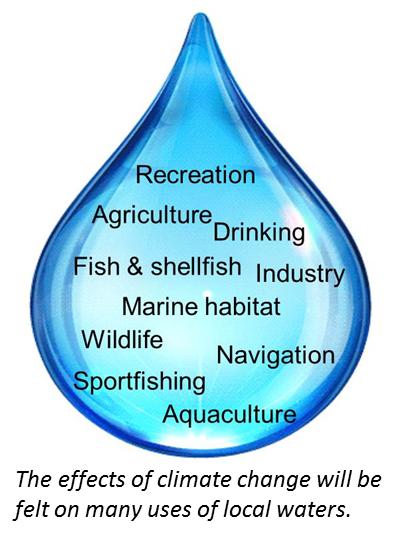 Climate change is happening. The direct and indirect effects of climate change have broad-reaching implications for the San Diego Water Board's mission to protect and restore uses of water. The State of California regularly compiles a variety of information on science, news, and actions at the Climate Change Portal. The State and Regional Water Boards have a key role in the State's implementation plan known as Safeguarding California.
Effects of climate change.
For instance, sea level rise, ocean acidification, and changes to precipitation patterns, groundwater levels, and temperature will influence how we ensure that water is safe for drinking, swimming, fish and shellfish consumption, and ecosystems. The California Climate Change Center produced a climate change impact report (2009) summarizing some of the threats to the San Diego Region.
Effects of management actions.
In addition, local governments, non-governmental organizations, and industries need to make a variety of difficult decisions regarding potential climate change impacts to their interests; and those decisions could affect our mission in the coming years. For examples see Sea Level Rise Adaptation Strategy for San Diego Bay (2012). For instance:
Accommodating higher tidal surges by armoring coastlines could restrict recreational uses of beaches and bays.
Managing larger volumes of storm water by modifying stream channels could disrupt ecosystem uses of streams and wetlands.
Relying on natural attenuation of soil contamination could be risky if the area may become inundated due to sea level rise or rising groundwater.
San Diego Water Board Activities
Tentative Resolution No. R9-2017-0035 "Addressing Threats to Beneficial Uses from Climate Change."
Notice of Opportunity for Public Comment
Written Comments Received during February 3-21, 2017 comment period:
Revised Meeting Date: The Board is now scheduled to consider adoption of the Tentative Resolution with minor edits based on the written comments received, at its public Board meeting on August 9, 2017 at the San Diego Water Board office. For information on Board meetings, locations, and agendas, please visit our agenda page
Our Practical Vision will inform and guide our efforts. Indeed, climate change may influence the ultimate outcome of many Practical Vision goals, such as wetland, stream, and riparian recovery and sustainable local water supplies. However, the Practical Vision also provides the principles and core values we need to address the climate change risks.
Contacts
For additional information contact Jeremy Haas, Environmental Program Manager, at Jeremy.Haas@waterboards.ca.gov or 619-521-3009.