About Us
Our Mission
To preserve, enhance, and restore the quality of California's water resources and drinking water for the protection of the environment, public health, and all beneficial uses, and to ensure proper water resource allocation and efficient use, for the benefit of present and future generations.
Our Duty
The primary duty of the Regional Board is to protect the quality of the waters within the Region for all beneficial uses. This duty is implemented by formulating and adopting water quality plans for specific ground or surface water basins and by prescribing and enforcing requirements on all agricultural, domestic and industrial waste discharges. Specific responsibilities and procedures of the Regional Boards and the State Water Resources Control Board are contained in the Porter-Cologne Water Quality Control Act.
Overview of the Central Valley Regional Water Board
The Central Valley Regional Water Quality Control Board is the largest and most diverse region in California, stretching from the Oregon border to the northern tip of Los Angeles County - about 60,000 square miles or nearly 40 percent of the state. It includes all or part of 38 of California's 58 counties and nearly 80 percent of the state's irrigated agricultural land.
In total, water from the Central Valley provides more than 50 percent of the state's total water supply, provides drinking water for 25 million Californians and irrigation for millions of acres of farms in and out of the valley.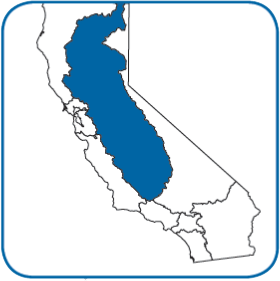 Click for detailed map
Key water quality program areas in the Central Valley
Agriculture and ag-related industry
Animal feeding operations including dairies
Municipal and industrial waste disposal in water and on land
Storm water runoff
Timber harvest operations
Abandoned mines
Pollution cleanup