The Morro Bay National Monitoring Program
A Ten-Year Rangeland Management Practices Study
Project Description:
For ten years, the Central Coast Water Board and California Polytechnic State University monitored the effects of rangeland management practices in the Morro Bay watershed as a part of the U.S. EPA Section 319 National Nonpoint Source Monitoring Program (Monitoring Program). The focus of the Morro Bay Monitoring Program project was a paired watershed study at Chumash Creek and Walters Creek and two cattle exclusion projects at Dairy Creek and Chorro Creek. The paired watershed design allows the effects of management measures to be isolated (from variations such as climate and flow) because it involves monitoring the outflow from two similar watersheds while they are first managed the same and then while one is treated with management measures. In the paired watershed study, management practices included alternate water supply development, streambank stabilization, road improvement, and grazing management. In the cattle exclusion projects, management practices included, partial and total livestock exclusion fencing from stream, alternate water supply development, and grazing management.
Project Results
Monitoring Program project staff detected significant water quality improvements due to rangeland management practices implementation as mentioned above. At Chumash Creek, staff documented reductions in suspended sediment and turbidity during storm events, and improvements in water temperature and dissolved oxygen year-round. Staff also found improved water temperatures and dissolved oxygen levels at Dairy and Chorro Creeks. Additionally, decreases in fecal coliform were found along Chorro Creek where cattle were excluded from the channel and riparian zone and given an alternate watering source. Riparian vegetative improvements were apparent at all sites.
Data from the Morro Bay Monitoring Program assisted Total Maximum Daily Load development and nonpoint source pollution control implementation in the watershed. The project provided baseline values to establish the framework for a local volunteer monitoring program and Central Coast Ambient Monitoring Program, the Water Board's regionally-scaled ambient monitoring program. Efforts to evaluate long-term effects of management practices implementation on California rangelands and water quality continue in the Morro Bay watershed.
How Success Was Measured:
Success was measured as evidenced above by direct water quality improvements.
Pictures: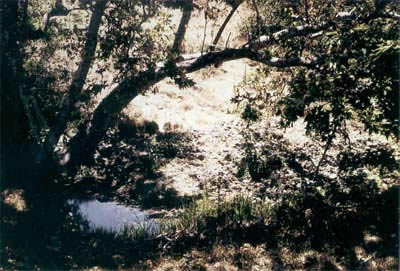 Dairy Creek prior to installing Management Practices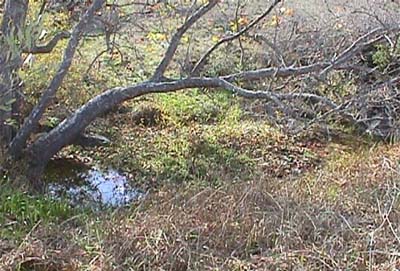 Dairy Creek following Management Practice installation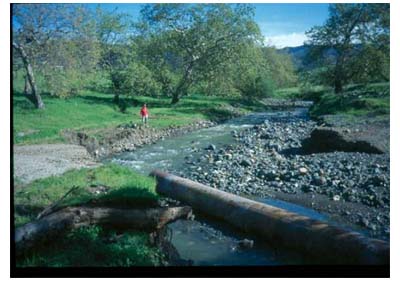 Chorro Creek prior to installing Management Practices
Chorro Creek following Management Practice installation
Contact:
Katie McNeill at:
Katie.McNeill@waterboards.ca.gov, 805-549-3336