SAFER Drinking Water Advisory Group
(Formerly the Safe and Affordable Drinking Water Fund Advisory Group)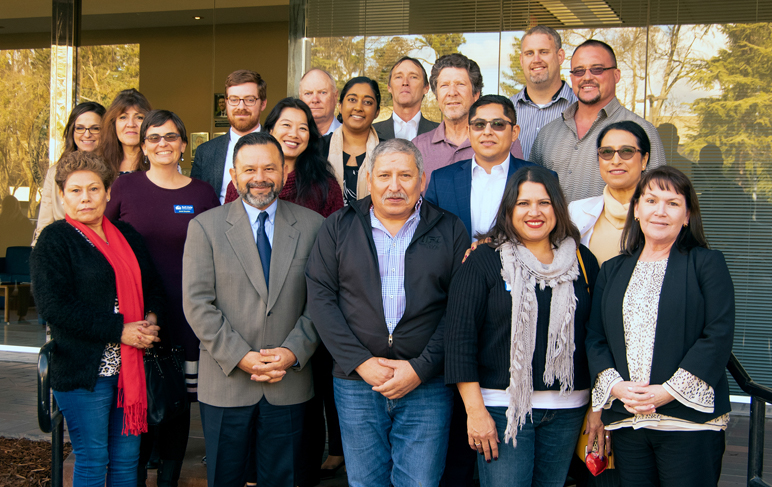 Advisory Group Members at Jan. 13, 2020 Meeting
The SAFER Drinking Water Advisory Group provides the State Water Board with constructive advice and feedback on the Safe and Affordable Drinking Water Fund Expenditure Plan and other related policies and analyses.
The Group is composed of 19 appointed members that represent public water systems, technical assistance providers, local agencies, nongovernmental organizations, the public and residents served by community water systems in disadvantaged communities, state small water systems, and domestic wells.
The Group meets up to four time a year at locations throughout California to provide many opportunities for public and community input. All meetings are widely publicized, open to the public, and offer translation services.
Meetings
January 13, 2020
9:30 a.m. PST
Central Valley Water Quality Control Board
11020 Sun Center Drive # 200
Rancho Cordova, CA 95827
February 19, 2020
9:30 a.m. PST
California State University, Fresno
Viticulture and Enology Conference Room
2360 E. Barstow Avenue
Fresno, CA 93740
April 2020
In the Southern California Area
Date, time, location TBD
Meeting Materials
February 19, 2020
January 13, 2020
Email Subscription List
To receive updates on the SAFER Drinking Water Advisory Group, subscribe to the SAFER Drinking Water email list:
Check your email account for a confirmation email to complete your subscription.
Contact Us