Water Rights Hearings Program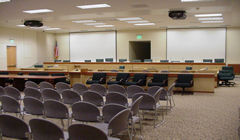 Welcome to the Division of Water Rights Hearings Program home webpage.
This website provides posted information related to current and archived hearings conducted by the State Water Board, and provides generally information, via FAQs, describing the nature, conduct and immediate results of a water right hearing. [NOTE: The general information provided is not intended to either alter or supersede State Water Board regulations or policies regarding the conduct of such hearings.]
Hearings Program Site Index
Announcements
This section contains links to important information related to water rights hearings conducted by the State Water Board. Please check this section periodically for the latest information.
---
Subscribe to the Water Rights email list(s) to receive updates regarding current issues.