California Water Boards' Annual Performance Report - Fiscal Year 2019-20
This twelfth annual Performance Report provides a mechanism to measure and evaluate both what we do and how the environment is responding to our actions, and is part of our overall effort toward developing as performance-based organizations. The Water Boards regulate more than 40,000 dischargers, and our core regulatory workload achievements for the fiscal year included review, update, or issuance of almost 500 individual permits and conducting roughly 8000 inspections.
The report presents numerous performance measures for specific outputs and outcomes that are currently tracked through Water Board data systems. These performance measures are organized under key functional categories of Water Board work and can be explored through the tabs below.
Percentage of Targets Achieved in FY 2019-20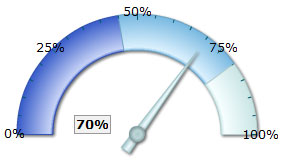 What We Do and How We Are Doing FY 2019-20
The Water Boards have been addressing impacts from cannabis cultivation activities, and the challenges associated with providing safe and accessible drinking water to all Californians. The Water Boards provided funding to help meet the water needs of drought affected communities. The 2019-20 performance report has been a collaborative effort by many around the organization and aimed at efficiently producing the report while transferring the program, skills, and knowledge. This year reflects some of the progress we have made to migrate the performance report to a more automated, open platform that incorporates data storytelling to describe our work's relationship to water quality outcomes. We are excited about the new things we are deploying in this report and have plans for even more improvements in future fiscal years' reports.
What Is The Quality Of The State's Water?
Ecosystems Health - Water is the most precious natural resource in California and its value depends on its quality. One function of the Water Boards is to assess and report on California's water quality. This link provides an overview of the health of a variety of California's waterbodies: Coastal, Streams, Lakes, and Wetlands.
This web site, supported by a wide variety of public and private organizations, presents California water quality monitoring data and assessment information from a variety of perspectives that may be viewed across space and time. Initial web portal development concentrates on four theme areas, with web portals to be released one at a time.
Additional Reports and Plans