Maps and Data
---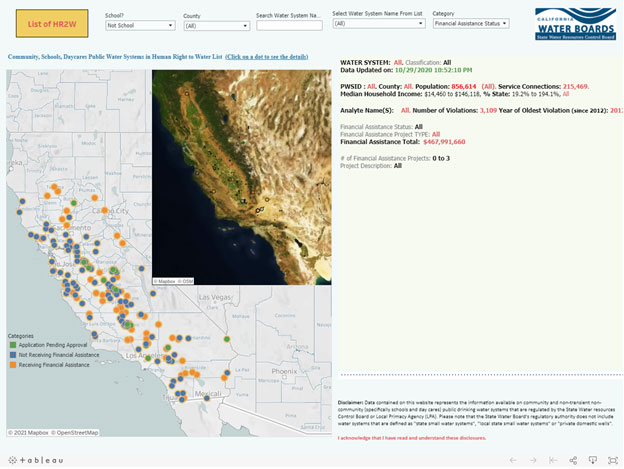 A primary goal of the SAFER program is to provide up-to-date information on water systems that are unable to provide safe drinking water. The Drinking Water Systems with Violations Tool allows users to access information such as types of violations, system population, median household income, and amount and type of financial assistance from the state. Users can search for this information by county, water system, or school. This tool in a testing phase and we encourage users to explore the tool and provide feedback, including errors or areas of improvement.
---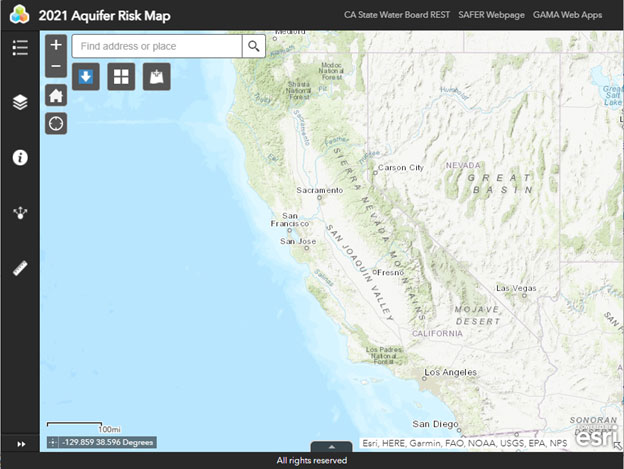 This Aquifer Risk Map is developed to fulfill requirements of SB-200 and is intended to help prioritize areas where domestic wells and state small water systems may be accessing groundwater that does not meet primary drinking water standards. In accordance with SB-200, the risk map is to be made available to the public and is to be updated annually starting January 1, 2021. The Fund Expenditure Plan states the risk map will be used by the Water Boards staff to help prioritize areas for available SAFER funding. This is the final 2021 map based upon feedback received from a draft map published in October 2020.
---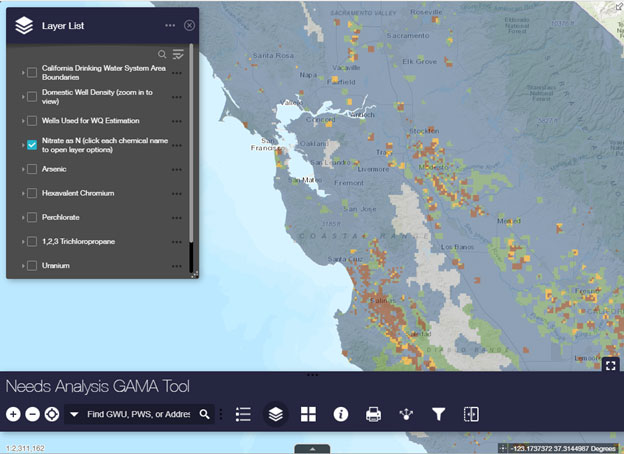 The State Water Resources Control Board was tasked to conduct a Needs Assessment of the state of drinking water in California. The Division of Drinking Water identified three elements for this analysis: identification of public water systems at risk, identification of domestic wells and state small systems at risk, and, lastly, an analysis of the cost to implement the Human Right to Water. The information provided in this application supports the second element, identifying the location and number of domestic wells potentially accessing groundwater affected by constituents at concentrations above regulatory levels. The methodology used to develop the estimates in this application can be found in this white paper.
---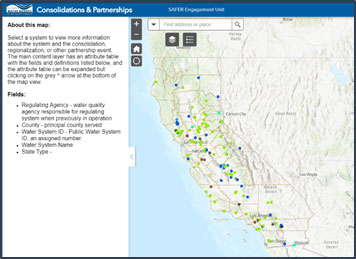 This Water System Partnership Map can be used to explore the Human Right to Water (HR2W) projects and work of the SAFER Engagement Unit. The SAFER Engagement Unit is a team of engineers and program specialists within the Division of Drinking Water. Their mission is to support water systems in achieving long-term sustainability. They organize water quality and quantity improvement projects for water systems currently on, or at-risk of being on the HR2W list. SAFER promotes community participation, facilitates funding discussions, coordinates water system Administrator appointments, and advances sustainable alternatives such as water partnerships. Use the links below to explore the HR2W projects and work of the engagement unit.
---