Regulation of Composting Operations
The State Water Resources Control Board and Regional Water Quality Control Boards (Water Boards) are required to protect the quality and beneficial uses of the waters of the state. The California Water Code requires that anyone who discharges waste that could affect waters of the state must submit a report of waste discharge. Current practice is to issue individual waste discharge requirements (WDRs), general WDRs, or waivers of WDRs. A conditional waiver for "green waste-only" composting facilities was in effect from 1994 until 2003, when a change in law required all waivers to be either renewed or replaced with WDRs. The State Water Board developed General Waste Discharge Requirements for Composting Operations (Composting General Order) that address water quality protection at composting facilities. The State Water Board certified the associated Environmental Impact Report (EIR) and adopted the Composting General Order on August 4, 2015.
Current Documents
General Order Frequently Asked Questions (FAQs)
Click on a title to view the content.
Composting Operations Map and List
Click here or on the picture below for a statewide map and list of composting operations enrolled under the Composting General Order (Tier I and Tier II facilities) and operations with individual waste discharge requirements (WDRs). The map is continuously updated as operations enroll.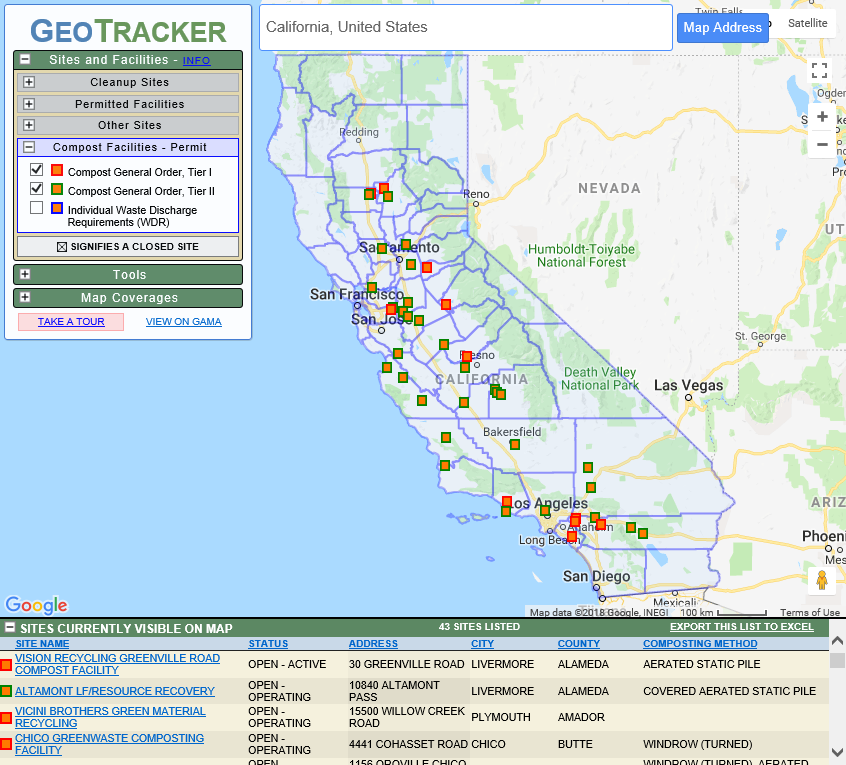 Past Activities and Documents
State of California Resources
Financial Assistance Information
Water Boards
Regional Water Quality Control Boards
Department of Resources Recycling and Recovery
California Department of Food and Agriculture
Subscribe to our Composting Operations email list to receive notifications and the latest updates. After subscribing, you will need to check your email host for a confirmation email to complete the subscription.
Subscribe to our other email lists. See the "Water Quality" section.
Contacts
Questions?
If there are questions related to disposal of debris or animal carcasses from a disaster or emergency event, contact the Program Manager.
File an Environmental Complaint
CalEPA Environmental Complaint System