CONNECT WITH US &nbsp
GRANTS AND LOANS


Proposition 1 Groundwater Grant Program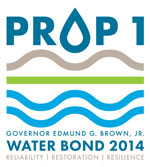 Proposition 1 was passed by voters in November 2014 and provided $900 million for a Groundwater Sustainability Program (Assembly Bill 1471, Chapter 10). The State Water Resources Control Board (State Water Board) will administer $800 million to prevent and cleanup contamination of groundwater that serves (or has served) as a source of drinking water. The funds are available as grants.
The State Water Board adopted the Proposition 1 Groundwater Grant Program Guidelines (Guidelines) on May 18, 2016, and adopted amendments to the Guidelines on December 19, 2017.
Quick Links
What's New!
Timeline
Guideline and Funding Milestones

Dates

Round 1 Grant Agreement Execution Complete
Fall 2018
Round 2
Solicitation for Concept Proposals Opens (Available in FAAST)
April 2018
Public Workshops for Applicants
April 2018
Solicitation Concept Proposals Closes
August 3,2018 
Invitation for Full Proposals
Summer 2018
Technical Reviews
Late Summer/Fall 2018
Preliminary Awards
Late 2018
Grant Agreement Execution 
Spring/Summer 2019
Applying for Prop 1 Groundwater Grant Program (Round 2)
Public Workshops
The State Water Board conducted workshops for the Proposition 1 Groundwater Grant Program Round 2 solicitation, on April 19 and April 30, 2018, which provided useful information and guidance regarding how to apply. A recording of the webcast and a copy of the presentation are provided at the following links:
How to Apply
Before applying, please refer to the Helpful Hints for important information regarding eligibility.
Applications are submitted using the Financial Assistance Application Submittal Tool (FAAST). The solicitation in FAAST consists of multiple tabs with text boxes, pull down menus, and multiple choice selections. Applicants will also provide additional information by uploading documents on the Attachments tab.
Eligible applicants should follow the steps below to submit a Concept Proposal:
Review the Helpful Hints
Navigate to FAAST website: http://faast.waterboards.ca.gov/
Create user account (if this is the first time using FAAST)
Log on by entering your username and password
Click on Start a New Application
Read and check boxes for the System Disclosures
Choose the Proposition 1 Groundwater Grant Program – Planning/Implementation Concept Proposal (RFP)
Fill out requested information on each tab
Click on the Attachments tab and upload the following documents as appropriate:
Submit application
The following FAAST resources are available online: Frequently Asked Questions and User Manual
If you need assistance, please contact the FAAST Help Desk between 8:00 am and 5:00 pm, Monday through Friday, at 1-866-434-1083 or FAAST_ADMIN@waterboards.ca.gov. All emails should include the subject line "Proposition 1 Groundwater Grant Program – Concept Proposal" and the FAAST Proposal Identification Number (PIN) if known.
Templates and Information for Recipients
Please use these templates in preparing the following deliverables:
More information regarding the above deliverables and other grant agreement requirements can be accessed in the presentation and recording from the June 2018 Grant Agreement Kickoff Webinar:
Archived Documents
Contact Us
For further information, contact us at:
Email: gwquality.funding@waterboards.ca.gov
Subject Line: Prop 1 Groundwater Grant Program
Phone: (800) 813-FUND (3863)

Sign-up for Email Alerts for Groundwater Quality Funding Assistance
See the "Financial Assistance (Grants & Loans)" section.