Prop 68 Groundwater Treatment and Remediation Grant Program
Proposition 68 was passed by voters in June 2018. The State Water Resources Control Board (State Water Board) will administer $74 million from Chapter 11.1 for grants for treatment and remediation activities that prevent or reduce the contamination of groundwater that serves as a source of drinking water.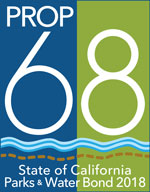 Two solicitations have been completed for the Proposition 68 Groundwater Treatment and Remediation Grant (Prop 68 GW) Program: one general solicitation, and another targeted to projects serving severely disadvantaged communities (SDAC). A list of awarded projects is provided above.
Funding for Disadvantaged Community (DAC) Drinking Water Projects
After completing two solicitations, approximately $28 million remains uncommitted. To utilize these remaining funds to help meet the significant needs of DACs, the State Water Board adopted a resolution on August 20, 2020, making these funds available for DAC drinking water projects that treat groundwater for direct potable use, without necessarily remediating the aquifer.  The Prop 68 GW Guidelines are waived for these projects. DAC Drinking Water projects do not need to apply directly to the Prop 68 GW Program. These projects are funded consistent with existing drinking water funding processes (see the Office of Sustainable Water Solutions webpage for more info). Division of Financial Assistance staff will consult internally to direct Prop 68 GW funds to identified eligible projects.
Additionally, the State Water Board is working on an effort to fund operations and maintenance for drinking water systems that are treating contaminated groundwater. Entities such as public agencies, public water systems, or nonprofits, that are interested in receiving a grant to run a local or regional program that provides operations and maintenance funding to multiple water systems should review this Request for Letters of Interest (letters due July 12, 2021).
Funding for SDAC Cleanup Projects
Another solicitation for projects consistent with the Proposition 68 Guidelines is not planned, but eligible projects that serve a SDAC can be funded on a continuous basis. Please note that the Prop 68 Guidelines target funds toward operations and maintenance of existing remediation facilities. Eligible projects should have enough data to determine the approximate nature and extent of contamination and demonstrate how the existing treatment facilities reduce or prevent the spread of contamination in groundwater within the aquifer. If you are working on an SDAC project that may qualify, send an email to the general inbox specified below to request a consultation with staff regarding eligibility.
Subscribe to our Email Lists
Contact Us
For further information, contact us at:
Email: gwquality.funding@waterboards.ca.gov
Subject Line: Prop 68 Groundwater Treatment and Remediation Grant Program
Phone: (800) 813-FUND (3863)