CONNECT WITH US &nbsp
CLEAN WATER
STATE REVOLVING FUND


Financial Assistance Programs - Grants and Loans
Clean Water State Revolving Fund Success Stories
Public Utilities Commission of the City and County of San Francisco
Lake Merced Green Infrastructure Project
CWSRF Loan Amount: $7,435,000.00

The Project converted Holloway Avenue, an urban residential street, which is nearly 100% paved, into a greener, more pedestrian and bike friendly corridor by incorporating multi-functional green infrastructure technologies. Starting at Ashton Avenue extending just past Lee Avenue, corner bulbouts containing bioretention planters were installed. The vegetated bioretention planters captures, stores and infiltrates stormwater runoff from concrete sidewalks. Pervious concrete replaced the existing impervious asphalt/concrete pavement within the parking areas and directs roadway stormwater runoff into an underlying aggregate reservoir for storage and infiltration
https://www.youtube.com/watch?v=ZFmsUTOMHoE&feature=youtu.be
.
Sacramento Regional County Sanitation District
EchoWater Project
CWSRF Loan Amount: $1,576,978,261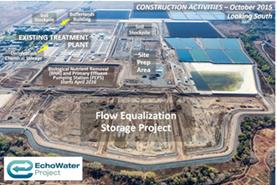 The EchoWater Project is among the largest public works project in Sacramento's history. When completed, it will keep Regional San in compliance with its regulatory permits and improve water quality by resulting in a nearly 95 percent reduction in ammonia discharged to the Sacramento-San Joaquin River Delta. It will also substantially increase water recycling opportunities (e.g., for agricultural irrigation, public landscapes, and industrial processes) by producing highly treated water that meets water reuse standards. The favorable loan terms will save ratepayers more than a half billion dollars in interest costs. Read more about this project at
http://www.regionalsan.com/echowater-project
.
Planada Community Services District
Wastewater Treatment Plant (WWTP) Improvement Project
CWSRF Loan & Small Community Grant Amount: $8,064,825
This project, which is jointly funded between the State Water Board and USDA Rural Development, changes the WWTP disposal method from nearby Miles Creek to agricultural irrigation. This project will allow the District to comply with discharge requirements, improve water quality, and offset water that can be used for potable uses during this challenging drought. For this small, disadvantaged community, breaking ground is a big step as many challenges had to be overcome during the long planning process. It took many parties coming together and perseverance on the part of the Planada CSD Board and the community to reach this important milestone. More information and a video of the ceremonies, can be found at the following link:
http://abc30.com/news/turning-planadas-waste-into-farmers-water/677536/
City of Plymouth
Wastewater Treatment Plant (WWTP) Improvement Project
CWSRF Loan Amount: $5,154,970
County of San Luis Obispo
Los Osos Water Recycling Facility
Water Recycling Grant Amount: $4,000,000
City of Tulelake
Wastewater Treatment Plant Upgrades Project
Small Community Grants Amount: $6,000,000