CONNECT WITH US &nbsp
STORMS - Implementation Committee
QUICK LINKS
STORMS Home Page
Projects Page
STORMS Page
Potential Pilot Projects Page
Seminar Series Page
Implementation Committee Page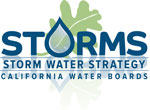 Strategy
FEEDBACK
You may provide feedback on the Storm Water Strategy by submitting the STORMS Feedback Form.
The STORMS Core Implementation Committee consists of participants representing one or more of the nine sectors identified in STORMS Section 5 - Implementation Resources. The Core Implementation Committee is a coordinating and advisory body that provides a forum for information exchange, consideration of STORMS project challenges & improvements, and development of collective feedback and recommendations to Water Board Staff and Management.
STORMS Sub-Committees will be identified and created by the Core Implementation Committee. Sub-Committees will consist of participants representing one or more of the sectors providing technical input on projects implemented in STORMS.
Core Implementation Committee Roles, Ground Rules, and Responsibilities
STORMS Core Implementation Committee Members
Primary
Secondary
Adam Link, CASA
916-446-0388
alink@casaweb.org
Lisa Haney, CASA
714-593-7404
LHaney@OCSD.COM
Dawn Koepke, CCEEB
916-930-1993
dkoepke@mchughgr.com
Jerry Secundy, CCEEB
626-356-9111
jerrys@cceeb.org
Sean Bothwell, CCKA
949-291-3401
sbothwell@cacoastkeeper.org

Kaitlyn Kalua, CCKA
707-483-2868
kaitlyn@cacoastkeeper.org

Geoff Brosseau, CASQA
650-365-8620
Geoff@brosseau.us
Daniel Apt, CASQA
949-449-7980
dapt@olaunu.com
Adam Borchard, ACWA
916-441-4545
AdamB@acwa.com
Dave Bolland, ACWA
916-441-4545
daveb@acwa.com
.