Water Rights Enforcement Complaints
Complaints Program
The State Water Board's Division of Water Rights relies on the public to help identify unauthorized diversions, diversions by junior water right holders that impact senior water right holders, diversions in violation of permit and license conditions, diversions that constitute waste and/or unreasonable use of water, and diversions that cause adverse impact to public trust resources (such as fish and wildlife). Complaints are filed in public files. However, the identity of a complainant may be kept confidential upon request.
To submit a water rights complaint, go to the CalEPA Environmental Complaint website.
If you have questions regarding the Division of Water Rights' authority over unauthorized diversions, waste and unreasonable use of water, or potential impacts to public trust, you may call: (916) 341-5300
---
Complaints Processing and Investigation
Summary
The Procedures for Investigating Water Rights Complaints in California (Complaint Procedures) provides information about water rights and water rights complaints. Specifically, the Complaint Procedures explain how State Water Resources Control Board (State Water Board), Division of Water Rights (Division) staff track and process complaints and conduct related investigations in accordance with applicable statutes, regulations, and court decisions. It also provides directions to Division staff for administrative steps for complaint investigations.
The Complaint Procedures identify minimum recommended information that will make it easier for Division staff to review and respond to any complaint we receive. The procedures also include a new priority scoring methodology to assist Division staff in ensuring that the most urgent complaints are addressed in a timely manner and that staff resources are efficiently utilized.
Types of Complaints Investigated
The State Water Board and Division will investigate and take appropriate action on complaints received alleging:
a violation of the conditions of a permit, license, registration, regulation, order, or policy issued or adopted by the State Water Board,
waste or unreasonable use of water,
illegal diversion or use,
violations of the public trust doctrine, and
matters within the Division's water right enforcement authority.
In a typical year, the State Water Board receives approximately 50 water rights related complaints, but the number received can increase to approximately 200 complaints during drought years.
Submitting a Complaint
Complaints must be submitted in writing. The Division strongly encourages complainants to submit complaints through the California Environmental Protection Agency (CalEPA) Environmental Complaint System. Complainants may also submit complaints by regular mail or by electronic mail, although these are less preferable. In rare circumstances, Division staff may receive a complaint by telephone (e.g., urgent situations, no internet access).
Minimum Recommended Complaint Information to Submit
A water right complaint must include sufficient information to support an allegation that a water rights-related violation or non-compliance is occurring or is threatened, and the Division staff will be able to initiate an investigation. A water right complaint should include sufficient information to identify the party allegedly responsible, often referred to as the "Respondent," for the alleged diversion or use of water. The complaint should include sufficient information that the State Water Board may establish communication with each party to the complaint. Water right complaints should include the following basic information:
The name, mailing address, email address, and daytime telephone number of the complaining party (Complainant).
The name and mailing address of the party against whom the complaint is being alleged (Respondent). An email address and daytime telephone number for the respondent are helpful.
A detailed description of the allegations.
The source name (spring, stream, or other body of water) that the respondent is diverting from. If there is no known name, the name of the next larger named stream to which the diversion source is tributary (or the watershed).
The location (e.g., county assessor parcel number (APN), street address, or latitude and longitude information) of the respondent's diversion and place of use, including the county in which it is located.
A description of any injury to the complainant or to public trust resources.
Details of the complainant's diversion and water rights if injury to the complainant's ability to divert water is claimed.
Photographs of the diversion or alleged activity, water diversion data, and other information if possible and safe to provide.
An explanation of possible resolution of the complaint.
Lack of basic information may cause delays in processing and may be cause for dismissing a complaint. If insufficient information is submitted as determined from the initial review, the complaint can be considered incomplete and may be dismissed. However, dismissal of a complaint does not prevent a party from submitting a complaint again later when actionable information becomes available.
Overview of Complaint Processing and Investigation
Complaint investigations can take significant time to complete and therefore does not usually result in a quick resolution of the complaint. The process has a series of steps that normally takes a number of months, and in complex matters may require more than a year. The Division, therefore, strongly encourages all water users to discuss conflicts directly with the other party when possible and to develop a mutually acceptable solution to resolve the conflict more quickly and without State Water Board involvement.
The process for investigation of all valid water rights complaints consist of the following general steps:
Submittal of Water Rights Complaint
Complainant submits a complaint. Minimum information recommended to be submitted.
Initial Review of Complaint by Division Staff
Division staff reviews complaint for completeness and for allegations that can be addressed by the Division.
Preliminary Investigation
Each complaint that meets initial review is reviewed by Division staff in detail to determine if a full investigation is warranted based on priority.
Full Investigation
Full investigations may include information requests with respondent or complainant; engineering, scientific, and hydrogeologic technical evaluations; field inspections; evaluation of impacts to public trust resources; legal reviews and consultation; and historical water rights review.

When an investigation is completed, a Report of Investigation (ROI) or similar documentation is prepared by Division staff to document findings and conclusions. Division staff may allow a time period (typically 30 days), for the complainant, respondent, and other parties to provide written comments regarding the investigation and conclusions. If the comments received compel Division staff to revise investigation findings, analysis, conclusions or recommendations, Division staff must prepare and issue a revised ROI or similar documentation.
Complaint Resolution
A complaint investigation may have the following resolutions:

Dismissal of the Complaint (e.g., if no violations are found or the matter is outside of the Division's authority to resolve).
Recommendation of No Further Action if violations have been corrected.
Recommendation to move to voluntary compliance if offender agrees to recommended corrective actions.
Recommendation to move to a formal enforcement action (such as a Cease and Desist Order or an Administrative Civil Liability Complaint)
Complaint Prioritization
While the Division of Water Rights encourages and welcomes the submittal of valid water rights complaints, we do not have enough staff resources to investigate all water rights complaints at once. Division staff prioritizes complaints based on the amount of alleged unauthorized water diverted, the stream type affected, public trust and drinking water resources impacted, and other watershed specific or site-specific relevant factors.
While the Division does prioritize which complaints it responds to, the Division does ultimately address or dismiss each complaint it receives. It may take several months to years to address each complaint the Division receives.
---
Search for Complaints
If you want to submit a complaint please see above, Submitting a Complaint. Include as much information as possible such as photos, documentation, maps, contact information, etc.
Search for a complaint using the e-WRIMS Public Complaint Search
The following images are examples that may guide you through the process.
To Search in eWRIMS accept the disclaimer by clicking Accept.

Then, click Water Rights Complaints Information Search.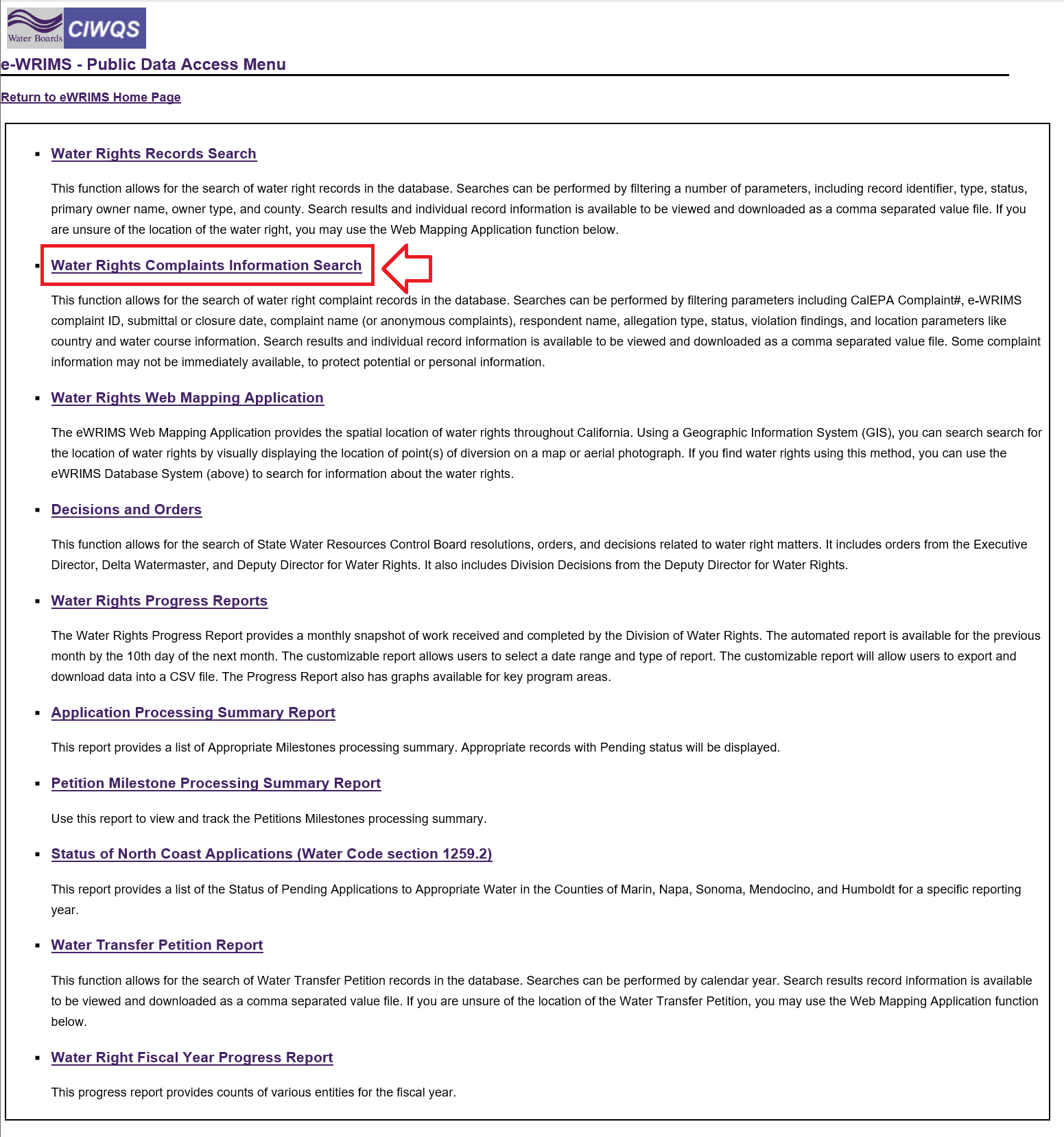 Lastly, fill in the complaint information and click search. The more information you include, the more specific your search results will be.