Federal Energy Regulatory Commission (FERC) Project No. #13123
Project Name: Eagle Mountain Pumped Storage Project (Eagle Mountain Project); FERC #13123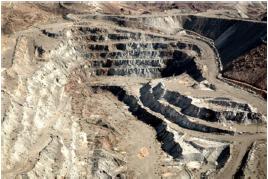 Existing Central Pit within the Eagle Mountains
(Photo provided courtesy of ECE.)
Applicant: Eagle Crest Energy Company (ECE)
County: Riverside
License Expiration Date: Original License
Water Quality Certification Status: Issued July 15, 2013
Waterbodies: Eagle Creek and Chuckwalla Valley Groundwater Basin
FERC Licensing Process: Traditional Licensing Process
Project Description:
The Eagle Mountain Project is located near the town of Eagle Mountain and Joshua Tree National Park in eastern Riverside County. The Eagle Mountain Project involves the construction of a new pumped storage project using two existing mining pits. The existing East Pit will form the Project's Lower Reservoir and the existing Central Pit will form the Project's Upper Reservoir. Water will be pumped from the Lower Reservoir to the Upper Reservoir during periods of low demand, and allowed to flow from the Upper Reservoir to the Lower Reservoir through an underground powerhouse with four turbines to generate peak energy during periods of high demand. To obtain the needed storage volume at the existing Central Pit, two dams will be constructed along its perimeter. As the existing East Pit has sufficient storage for the total required volume, no dams will be needed. The installed capacity of the Eagle Mountain Project is expected to be 1,300 megawatts. The Eagle Mountain Project is expected to provide hydroelectric generation to meet a portion of California's power requirements, provide power generation diversity and capacity needs, and contribute to reliable grid operations.
The Eagle Mountain Project consists of: (1) two roller-compacted dams at the Upper Reservoir at heights of 60 feet and 120 feet; (2) an Upper Reservoir with capacity of 20,000 acre-feet; (3) a Lower Reservoir with capacity of 21,900 acre-feet; (4) inlet/outlet structures; (5) water conveyance tunnels consisting of a 4,000-foot-long by 29 foot-diameter upper tunnel, a 1,390-foot-long by 29-foot-diameter shaft; a 1,560-foot-long by 29-footdiameter lower tunnel; four 500-foot-long by 15-foot-diameter penstocks leading to the powerhouse; a 6,835- foot-long by 33-foot-diameter tailrace tunnel to the Lower Reservoir; (6) surge control facilities; (7) a 72-footwide, 150-foot-high, and 360-foot-long underground powerhouse with four Francis-type turbine units; (8) a 13.5-mile, 500-kilovolt transmission line; (9) water supply facilities including a reverse osmosis system and associated brine ponds; (10) access roads; and (11) appurtenant facilities.
ECE applied to FERC for an original license on June 22, 2009, and applied to the State Water Resources Control Board (State Water Board) for a Clean Water Act, Section 401 water quality certification (certification) originally on September 26, 2008. State Water Board staff have been involved and provided guidance throughout the FERC licensing process.
Related Documents
Water Quality Certification:
Environmental Documents:
Other Related Documents: