Federal Energy Regulatory Commission (FERC) Project No. 14581
Project Name: La Grange Hydroelectric Project, FERC #14581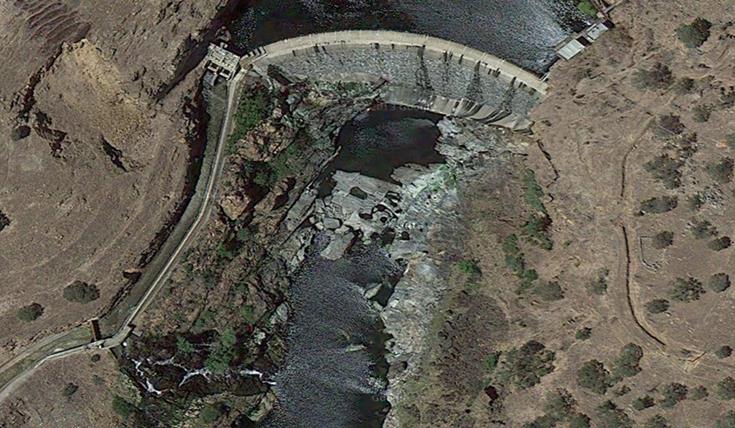 Aerial view of La Grange Dam
(Image provided by MID and TID)

Applicant: Turlock Irrigation District and Modesto Irrigation District
County: Tuolumne
Water Quality Certification Status: Issued
Waterbody: Tuolumne River
FERC Licensing Process: Integrated Licensing Process (ILP)

Project Description:


Turlock Irrigation District (TID) and Modesto Irrigation District (MID) (collectively referred to as the Districts) are the co-licensees of the 4.75 MW La Grange Hydroelectric Project (Project). The Project is located on the Tuolumne River in western Tuolumne County. The Tuolumne River is a tributary to the San Joaquin River, which eventually flows into the Sacramento-San Joaquin River Delta, and then the San Francisco Bay.  The La Grange Diversion Dam operates in a run-of-river mode for the purpose of raising the level of the Tuolumne River to a height which enables gravity flow of diverted water into the Districts' irrigation systems.

The Project facilities include La Grange dam, spillway, and reservoir, TID diversion tunnel intake, forebay, TID's sluiceway, two penstock intakes and penstocks, a powerhouse, excavated tailrace, and substation.  There are no recreational facilities associated with the Project.

All flows released from the Don Pedro Project, located 2.3 miles upstream of the La Grange diversion dam, either are diverted by MID and/or TID, or are spilled over the La Grange spillway. Flow to the lower Tuolumne River is discharged from sluice gates on the MID side of the river and sluice gates and the La Grange powerhouse on the TID side of the river. Water is diverted between Districts approximately 68 percent to the MID system and 32 percent to the TID system.

FERC currently intends to prepare a single environmental impact statement for licensing the Project and relicensing the Don Pedro Project that describes and evaluates the probable effects, including an assessment of the site-specific and cumulative effects, if any, of the proposed action and alternatives.

The Districts are local public agencies authorized under the laws of the State of California to provide water supply for irrigation, municipal, and industrial uses and to provide retail electric service. Collectively, the MID and TID canal systems provide water to over 200,000 acres of prime Central Valley farmland and the City of Modesto for M&I uses.
Related Documents
Additional information about the Project can be found at the Districts' relicensing website at: http://www.lagrange-licensing.com/default.aspx.