Federal Energy Regulatory Commission (FERC) Project No. 2100
Project Name: Oroville Facilities Hydroelectric Project (Project)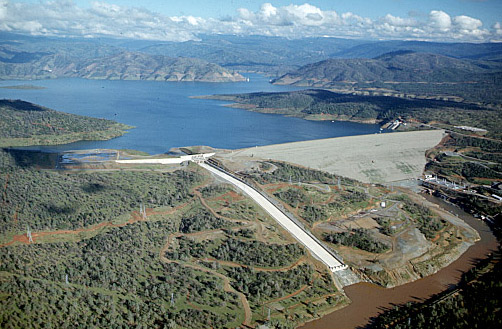 Lake Oroville and Oroville Dam
(Photo provided courtesy of the Department of Water Resources)
Applicant:
California Department of Water Resources
County:
Butte
License Expiration Date:
January 31, 2007
Licens Issuance:
Pending
Water Quality Certification Status:
Issued
December 15, 2010
Waterbodies:
Feather River
FERC Licensing Process:
Alternative Licensing Process
On January 26, 2005, the Department of Water Resources (DWR) filed for a new license to operate the Oroville Facilities (FERC Project No. 2100) with the Federal Energy Regulatory Commission (FERC or Commission). The Oroville Facilities (Project) was developed as part of the State Water Project (SWP). The SWP is a water storage and delivery system comprised of reservoirs, aqueducts, power plants, and pumping plants designed to supplement the needs of urban and agricultural water users in Northern and Southern California, the San Francisco Bay Area, the San Joaquin Valley, and California's central coast region. The Project is operated for flood management, power generation, recreation, fish and wildlife enhancement, and water quality improvement in the Sacramento-San Joaquin Delta. The Project license, originally issued by the Commission on February 11, 1957 (with a retroactive effective date of February 1, 1957), expired on January 31, 2007. Water quality certification for the Project was completed and issued on December 15, 2010. Until the FERC license is issued, the Project operates under annual licenses, which extend the terms and conditions of the original license.
The Project is located on the Feather River near the City of Oroville in Butte County. Construction of the Project began in 1961 and was completed in 1968. Project features include: Oroville Dam and Reservoir with a storage of 3.5 million acre-feet and a surface area of 15,180 acres; Hyatt Power Plant with a generation capacity of 645 megawatts (MW); Thermalito Diversion Pool; Thermalito Diversion Pool Power Plant with a generation capacity of 3 MW; Thermalito Forebay; Thermalito Power Plant with a generation capacity of 114 MW; and the Thermalito Afterbay.
Thermalito Afterbay
Photo provided courtesy of the
Department of Water Resources

Settlement Agreement for the Licensing of the Oroville Facilities
After consultation with state and federal resources agencies, tribes, local governments, non-governmental agencies and the public, DWR applied to the Commission and was granted use of the Alternative Licensing Process (ALP) for the relicensing of the Project. The ALP was initiated to expedite the relicensing process through extensive collaboration with stakeholders and the preparation of an applicant prepared Environmental Assessment. A collaborative group composed of interested parties and regulatory agencies, including State Water Board staff, was formed to scope issues, design studies, review study reports, identify potential resource actions, and provide guidance to DWR on the application for new license and process documents.
A settlement group was later formed to negotiate a Settlement Agreement to resolve relicensing issues among the settling parties regarding the continued operation of the Oroville Facilities. A Settlement Agreement was finalized in March of 2006.
Related Documents
Petition to Re-open and Amend the Water Quality Certification
Water Quality Certification