Federal Energy Regulatory Commission (FERC) Project No. 2687
Project Name: Pit 1 Hydroelectric Project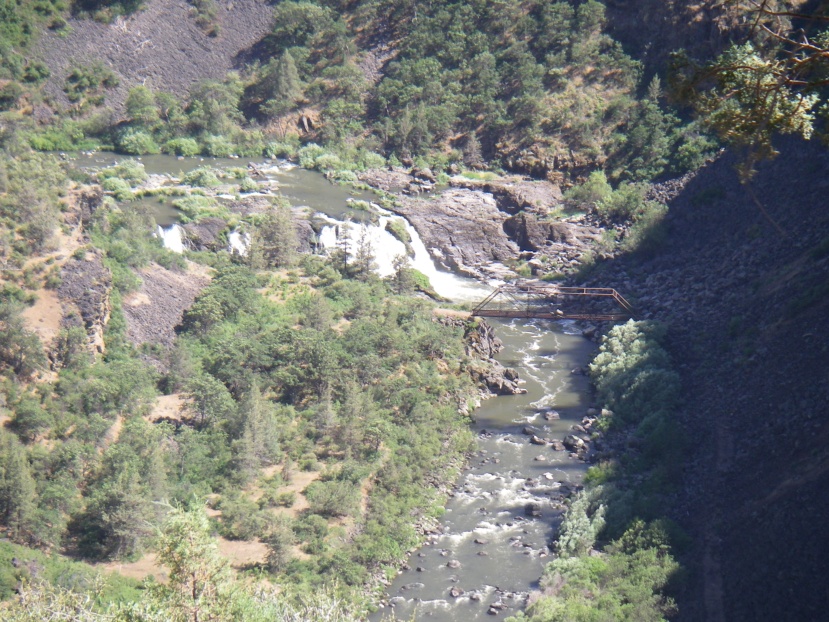 Pit River Falls
(Image provided by State Water Board staff)
Applicant:
Pacific Gas and Electric Company, Inc. (PG&E)
County:
Shasta
License Expiration Date:
February 28, 2043
Water Quality Certification Status:
Issued: December 4, 2001
(
FERC Project No. 2687
)
Waterbodies:
Pit River, Fall River
FERC Licensing Process:
Traditional Licensing Process
Project Description:
The Pit 1 Hydroelectric Project (Project) is located on the Pit and Fall Rivers near the communities of Fall River Mills and McArthur in northeastern Shasta County, California.
The Project consists of a concrete diversion dam that allows water to enter the Pit 1 Forebay. The Pit 1 Forebay is created by a 40-foot-high by 586-foot-long compacted earth and rock-fill dam. There are two intake facilities to the Pit 1 intake canal and tunnel: intake Number 1 diverts water from the Fall River upstream of the diversion dam, and intake Number 2 diverts water from the Pit 1 Forebay. The intakes open into two short canal sections that converge into one common canal leading to a concrete-lined tunnel. The tunnel terminates at a 60-foot-diameter concrete-lined surge chamber with a spill channel. Two penstocks deliver water to the Pit 1 Powerhouse, located on the Pit River approximately 7 miles downstream from the confluence of the Fall River and the Pit River. The Pit 1 Powerhouse contains two vertical-shaft, Francis-style turbines with a dependable capacity of 65.5 megawatts. There are no transmission lines associated with the Project. The switchyard is the point where the Project joins with PG&E's primary transmission system.
On May 21, 2009, the State Water Resources Control Board (State Water Board) received a letter from the United States Fish and Wildlife Service (USFWS) requesting the suspension of flushing flows for the summer of 2009 due to concerns that the flows were contributing to the decline of the local Shasta crayfish (Pacifastacus fortis) population. The State Water Board is considering an amendment to PG&E's water quality certification in order to address this request (see below).
The Project is related to PG&E's Pit 3, 4, and 5 Hydroelectric Project.
Related Documents
Request for Amendment of Water Quality Certification
Water Quality Certification (WQC)
California Environmental Quality Act (CEQA)
Other Related Documents:
McArthur Swamp Waterfowl Restoration Project